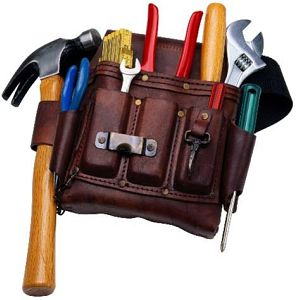 Every person responsible for his own living space needs to have some basic tools, supplies and skills. Fixing a dripping faucet, patching screens, repairing a hole in the wall and clearing slow drains are examples of home maintenance jobs that most people can handle, with the right information and equipment.
Your Toolbox
Get a basic, sturdy toolbox. Stock it with the best tools you can afford, and keep it simple. Most common repairs can be accomplished with these basic hand tools: claw hammer, screwdrivers (Phillips and standard tip), measuring tape, torpedo level, ruler, pliers (slip-joint, needle nose and regular), an adjustable-end wrench, a utility knife, putty knife, some clamps and a toilet plunger (which won't fit in your toolbox, obviously). Add an assortment of nails, screws and other fasteners, some really good glue, WD-40 and machine oil. Buy a good electric drill when you can, and it will make many tasks immeasurably easier. Add additional tools and supplies to your box as you need them, and resist the urge to buy every shiny new gadget that comes along.
Your Library
You need a couple of basic reference books. There are many on the market, new and used. An older book will be useful for basic repairs, but a newer edition may incorporate the use of new materials and safer methods, so consider buying new if you can. You might look for a comprehensive home repair manual, but also keep an eye out for specialized volumes that cover repairs you think you're likely to make, such as basic plumbing or wiring.
To get information on the project or repair you're facing at the moment, visit your local library. They probably have a book or several on the topic, and may have an explanatory video, too. There's nothing like watching someone make a repair or build something while explaining it to you, to firmly settle the technique in your head. Also check out the free how-to pamphlet rack at your hardware store. You're likely to find an extensive explanation with illustrations, of just the project you're thinking of tackling.
Your Backup
Sometimes it's better to call a professional. If you haven't time to fix something that is dangerous to leave as is, call a pro. If you do have time, but would have to buy or rent expensive specialized equipment or tools, it might be cheaper to pay someone to do the work. Finally, consider your skills. Don't attempt a project that is beyond your ability to handle safely and with the expectation of good-looking results. Always call the pros in case of a gas leak.
The following two tabs change content below.
Hi. I'm an IT Professional working in a Telecom company. With a lot of passion and ideas, I've decided to run this blog to share advice with people like you. I hope you'll enjoy them.
Latest posts by Hicham RK (see all)