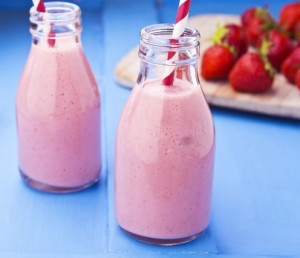 Would you agree that the simplest things are the tastiest? Our memories bring back summertime treat, when we used to crush strawberries with a fork or spoon, then served in a little bowl with sugar and sometimes cream, taste of childhood memories.
This recipe makes 2 servings.
The buttermilk gives a smooth texture and a sharpness that makes this drink distinctive.
Ingredients
2/3 cup (150 mL) hulled strawberries
3/4 tsp (4 mL) grated orange peel
4 drops almond extract
1 tbsp (15 mL) honey
2 cups (500 mL) buttermilk
2 small scoops strawberry ice cream
2 unhulled strawberries
Preparation
In blender or food processor, combine first 5 ingredients and blend until smooth. Scoop ice cream into 2 tall glasses, fill with shake and garnish each glass with 1 unhulled strawberry. Serve immediately with a spoon.
The following two tabs change content below.
Hi. I'm an IT Professional working in a Telecom company. With a lot of passion and ideas, I've decided to run this blog to share advice with people like you. I hope you'll enjoy them.
Latest posts by Hicham RK (see all)