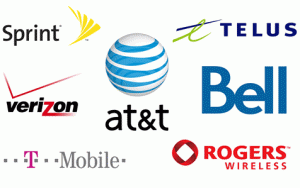 While there's no doubt that cell phones are useful, figuring out the best service provider and plan can be a nightmare.
Cell phone providers compete for your business using jargon, and it's sometimes difficult to compare rates. They offer different phones and services, so figuring out which will best suit your needs can be a hassle, especially since most providers want you to sign a one- or two-year contract, which often eliminates the ability to test out the service.
We have selected for you the top 10 providers for 2013.
Evaluation :
| | | | | | | |
| --- | --- | --- | --- | --- | --- | --- |
| Solution | Plans | Phones & Features | Additional Benefits | Fees | Support | Overall rating |
| 1- Verizon Wireless | 10.00 | 8.75 | 10.00 | 8.75 | 10.00 | 9.58 |
| 2- AT&T | 10.00 | 10.00 | 10.00 | 8.75 | 7.50 | 9.38 |
| 3- Sprint | 8.75 | 8.75 | 10.00 | 8.75 | 6.25 | 8.38 |
| 4- T-Mobile | 8.75 | 7.50 | 7.50 | 8.75 | 8.75 | 8.33 |
| 5- Boost Mobile | 8.75 | 6.25 | 7.50 | 7.50 | 8.00 | 7.73 |
| 6- Cricket | 7.50 | 7.50 | 7.50 | 7.50 | 8.50 | 7.70 |
| 7- Virgin Mobile | 7.50 | 6.25 | 7.50 | 7.50 | 8.00 | 7.30 |
| 8- U.S. Cellular | 7.50 | 6.25 | 6.25 | 6.25 | 7.50 | 6.95 |
| 9- MetroPCS | 6.25 | 5.00 | 5.00 | 5.00 | 5.00 | 5.45 |
| 10- TracFone | 5.00 | 5.00 | 5.00 | 5.00 | 5.00 | 5.00 |
Comparisons :