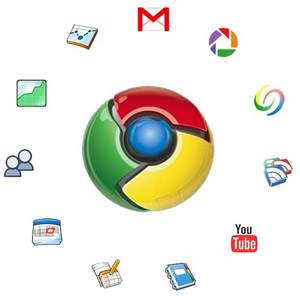 Part of Google Chrome's appeal lies in its minimal interface, free from stacks of toolbars and rows of icon shortcuts.
At the same time, the right extension can improve your Web experience without ruining the browser's stripped-down style.
Here we pick out our favourite 20 extensions for Chrome, listed in no particular order of preference. All of these extensions can be found on the Chrome Web Store – bear in mind that you can sync Chrome extensions across multiple machines if you want to, via the Personal Stuff page of the Settings tab.
Google Dictionary
The best extensions feel like built-in browser features, which is the case with Google Dictionary. Once the extension's installed, double-click on a word to see an instant pop-up definition (with a link for further information) — find out exactly what "cornucopia" means without interrupting your browsing. Alternatively, you can also look up a word by clicking on the extension icon in the toolbar.
WOT
Would you like to know which websites you can trust? The WOT add-on is a crowd-sourced safe surfing tool for your browser. Traffic-light rating symbols show which websites Internet surfers trust for safe surfing, shopping and searching on the web.
Buffer for Chrome
If you're new to Buffer, it spreads out your tweets over a predetermined schedule, so your followers aren't overloaded. It's not suitable for time-sensitive tweets (complaining about the latest episode of Homelandperhaps), but it's perfect for queueing up links and such like. The Chrome extension works flawlessly, composing and buffering your tweet in a couple of mouse clicks.
Chrome to Phone
If you're using an Android phone or tablet, you can use the Chrome to Phone extension to quickly send links and other content to your mobile device, either via the right-click menu or the extension icon. You'll also need to install the Chrome to Phone app on your Android device, where you can choose whether to open up links automatically.
Awesome Screenshot
Get past the over-the-top name and Awesome Screenshot is a very useful screenshot tool that manages to be both packed with features and easy to use. It's possible to add annotations, capture entire webpages (even when they are only partially visible), share pictures quickly via the internet, and more. Images can be saved locally, uploaded or copied to the clipboard as required.
X-notifier (Gmail, Hotmail, Yahoo, AOL …)
X-notifier(aka MuNo) checks your webmail accounts and notifies the number of unread emails.
Click&Clean
Take more control over what your PC and your browser knows about you with Click&Clean – the extension can help you erase your browsing history, edit your privacy settings, remove tabs based by domain, view cached video files, and more. It also links to some of Chrome's less well-known areas, such as the built-in Task Manager.
YouTube Downloader
Download any video from YouTube. Adds a download button to YouTube video pages.
Adblock Plus
By preventing the display of ads, Adblock Plus makes browsing the web less taxing on both your computer and your sanity. Adblock Plus is a community-driven open source project that aims to make the internet better for everyone.
TooManyTabs for Chrome
Ever tried having 20 tabs or more open in Chrome? You can't even see the favicon of the tabs, not to mention the tab titles! If that happens to you, TooManyTabs is a must-have extension that manages your tabs, reduces your tab overflow, and saves your sanity!
AddThis
AddThis allows you to instantly share, bookmark, print, or even translate pages with one easy-to-use tool. Start with the most popular services, or customize AddThis with your favorite ways to share – just select "Options" to personalize your list of services. We've optimized AddThis to be as fast as it is easy, so you can share whenever you like without slowing down Chrome.
Chrome FTP
This extensions allows you to open a local file of your choice or your server and browse it in your web browser in order to download any file. You can save your preferences in the options page in order not to have to re-enter your informations or to bring them back to their original values.
Daily Links
Daily Links helps you organize your daily routine. You specify which pages to open and what days of the week to load them on. Then just click the Daily Link's icon and all of today's pages load in new tabs. This is great for keeping track of web comics, blogs, news, or any site you want to check regularly.
iMacros for Chrome
iMacros was designed to automate the most repetitious tasks on the web. If there's an activity you have to do repeatedly, just record it in iMacros. The next time you need to do it, the entire macro will run at the click of a button! With iMacros, you can quickly and easily fill out web forms, remember passwords, create a webmail notifier, and more. You can keep the macros on your computer for your own use, use them within bookmark sync / Xmarks or share them with others by embedding them on your homepage, blog, company Intranet or any social bookmarking service as bookmarklet. The uses are limited only by your imagination!
Springpad
Springpad gives you free notebooks to save anything you want to remember. Save lots of different types of things all in one place Notes and tasks, Bookmarks, Recipes, Books, Movies, and Products, Businesses and Restaurants, Checklists, Shopping Lists and Packing Lists and much more! Springpad syncs everything you save, so you can access it from anywhere!
Docs PDF/PowerPoint Viewer
By clicking on a link for a supported document format you'll be taken to the Google Docs Viewer. No more downloading large files and launching another application just to view it. The Google Docs Viewer does not work on files that require a log-in to view, but you can make it ignore specific domains in the options so you will still download the file.
Silver Bird
Silver Bird is a Twitter extension that allows you to follow your timelines and interact with your Twitter account.
SocialPlus!
Customize and make Facebook better with SocialPlus! (Skin, don't like button,VideoChat, emoticons, color, nudge, photo preview … )
Google Quick Scroll
Google Quick Scroll is a browser extension that helps you find what you are searching for faster. After you click on a Google search result, Quick Scroll may appear on the bottom-right corner of the page, showing one or more bits of text from the page that are relevant to your query. Clicking on the text will take you to that part of the page.
LastPass
LastPass is a free online password manager and Form Filler that makes your web browsing easier and more secure. You can import from most major password storage vendors (such as RoboForm, 1Password, KeePass, Password Safe, MyPasswordSafe, Sxipper, TurboPasswords, Passpack, Firefox and Internet Explorer's built-in password manager) and export too.
The following two tabs change content below.
Hi. I'm an IT Professional working in a Telecom company. With a lot of passion and ideas, I've decided to run this blog to share advice with people like you. I hope you'll enjoy them.
Latest posts by Hicham RK (see all)