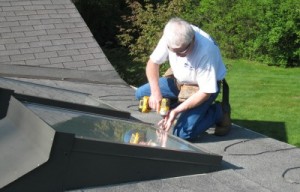 With fall already showing its colors, winter will be here before you know it. With the cold winter months come the possibility of harsh weather. To avoid a weather related home disaster, there are a few things you can do to prepare your home for winter.
Inside your Home
1 – Check your smoke alarm
Testing your smoke alarm and making sure it has working batteries is an easy step that could save your life in the future.
2 – Caulk it up
If you have windows or doors that let in a draft, simply caulk the edges. If you spend a few minutes caulking up air leaks within your home, it will save you more than a few dollars on your energy bill this winter.
3 – Shrink wrap your windows
Although having plastic on your windows all winter may not be the most visually appealing option, this trick can do wonders for insulating your home from the cold weather.
4 – Hang drapes
The heavier the drape is the more cold air it helps to keep out of your home.
5 – Stock your pantry with can goods
If a winter storm hits, it is smart to have some canned food in your home for emergencies.
6 – Store water
By storing a few gallons of water in your home or basement, you will ensure that you have water to drink if the pipes were to freeze or break during the colder months.
7 – Stock up on toiletries
If a winter storm hits, the last thing you need is to run out of a vital toiletry like toilet paper or soap. Keep an extra supply in your home, just in case.
8 – Use a heater insulating blanket
By insulating your hot water heater, you will reduce the amount of heat lost and it will help you save money on your electric bill.
9 – Insulate your pipes
Add a pipe insulation sleeve to help prevent your pipes from freezing this winter.
Outside
10 – Check the perimeter
Walk around your home and look for any cracks or holes that could potentially let in water. Plug any holes you find and keep an eye out for new ones throughout the winter months.
11 – Check the roof
If you are not able to, hire someone to go on your roof and confirm that it is stable. Fixing a few holes in the roof now could mean bypassing a future potential disaster.
12 – Keep a supply of rock salt
When the first heavy snow hits, you will want rock salt to put on your walkways and stairs. Rock salt will improve traction and could prevent dangerous falls. If you find you have an unexpected weather damage emergency, give a call to a professional restoration company in your area.