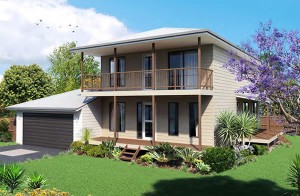 The exchange of ideas over the Internet has done wonders for the home. Even some of those who haven't done as much as boil an egg can now create some yummy casseroles just by following recipes and watching videos on the Web. DIY has suddenly become a craze – from simple wall décor to unique linens. Even when it comes to the house itself, many have embraced the idea of building it themselves, particularly since kit homes can now be purchased through a good number of shops online.
Benefits of Kit Homes
Building your own home does have its many enticing benefits. First of all, compared to having a structure designed and constructed by professionals from scratch, it does cost much lower when computed per item. Of course, it's definitely something to add to your life's bragging rights. Imagine the pride and the feeling of fulfillment once you've completed the project. In addition, doing it yourself gives you free rein over everything – without any contractor or worker interfering (or ruining) with your ideas.
But before you get overly excited about DIY houses. There are some important reminders you need to read prior to searching for the kit home for you.
3 Things to Keep in Mind
1. Home-building kits don't come with everything you need to finish your house.
It contains siding and framing materials, windows, doors, roofing and almost all the chief components. But don't expect it to have your electrical and plumbing requirements, floorboards and tiles, paints and sealants, and all other such items.
Some quality kit homes come with pre-hung doors and even cupboards and kitchen organizers. Always check what comes in the whole package before deciding to purchase.
2. Know yourself before looking at any kit home.
Determine the right size and style of structure you need and be aware of what you can and can't do in terms of building a house. Even if they're prefabricated, it doesn't mean that you can't have the perfect amount of space that you need. Today's design options for prefabs seem endless. You can surely find the ideal for you.
More importantly, admit to yourself if you haven't had any experience in carpentry or other handyman work. Select something that you're sure you can work on from start to finish. It isn't any good to do things yourself to lower costs when you have no idea even where to begin. You'd probably end up paying for the same or a higher amount compared to having a contractor.
3. Make sure you know how many plan revisions are allowed and how long the delivery of materials will take.
These often affect the budget and the timeline. There are companies that allow more than a couple of revisions, but charges for every revised plan. Others allow two sets of changes without any charge.
Delivery also often depends mostly on the completion of payment. This is important to know so you can more easily know your schedule and budget.
It is true that kit homes these days are an excellent alternative a house that's built by professionals. But be aware of the reminders above so you won't end up unsatisfied with your project – or not finishing it at all.
Prestige Kit Homes offers information on designs and prices of kit homes. They also give ideas on how to go about ordering their products with less hassle.