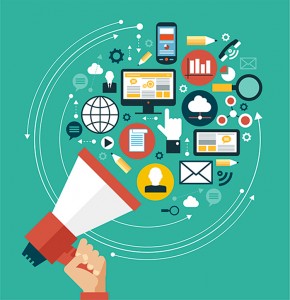 Promoting a business is the most important thing when it comes to the business-running strategies. No matter how innovative or imaginative you are, you need a strong and original marketing campaign behind that. Otherwise, you will not be recognized or noticed and all your effort will either be missed or stolen by shrewd competition. That is why every small business needs a detailed and long-lasting plan for promotion. If they do not see you, it is as if you do not exist. You have to be aware that you have to use all the strategies you can think of to let them know about your business.
1. Present on local level
No matter if you live and work in a smaller town or in a big city, your first steps need to be taken at your porch. That means that the first strategy you should apply is spreading the news about your business on the local level. For instance, a friend of mine is a hairdresser. When he finished his course and started looking for a job, he had a few refusals and he had no other choice but to start working at home. He simply placed an ad at the entrance to his building. At first it was only older ladies from his apartment building. Although he did not really enjoy touching old ladies' hair, he had no other solution. However, bit by bit he got recommended by word of mouth and more and more ladies started coming to his place for a haircut. Then he became a regular hairdresser of a retirement home in the neighborhood, where he also cut hair of older men. Later he opened his own place and did not have to work only with older ladies. However, the point is that he started from his threshold.
2. Advertise
Apart from this let's-work-at-home strategy, a small business owner must become publicly visible. In order to achieve that, he or she needs to pay some ads in order to get attention. Promo materials are also a fine option, but only when you have started your business. If you go for several promotional items at the same time, like mugs, T-shirts and pens with your name on them, you can find commercial printing companies, for example in Melbourne,  that will give you a discount. Every saved cent at the beginning of your small business career matters.
Also, if you have already earned some money, it is always a useful thing to pay an ad on the local TV-station. People still watch TV and you should now underestimate that means of promotion.
3. Boost networking
Nobody can live on their own. That is so true in business terms. If that friend of mine had not started networking in his building, he would never open his own hairdresser's studio. Or maybe he would, but years later. Meeting new people and telling them about your work will help you spread the network of your acquaintances and potential customers. Without connections, you are just a tiny object in space, which is not too likely to succeed. Also, get the best out of social media and websites such as LinkedIn, which is the largest business network in the world.
To become a successful small business and later grow even bigger, it is crucial that you are visible and that people get to recognize you. Once you have managed that, you can look in the mirror and congratulate yourself. Then comes the harder part – staying onthat level.
Author Bio
Dan Radak is a Cloud Computing security professional. Currently employed as a consultant in couple of e-commerce companies. Lately, he has been interested in business promotion. In his free time he likes travelling. You can reach him on Twitter.