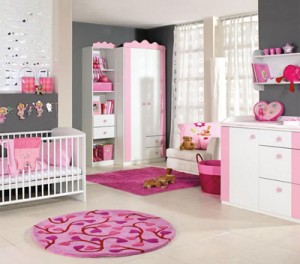 If you are expecting a baby and you want to prepare the perfect room, well you have the right to be confused. The market suggests a lot of offers and you get easily lost. Today we are giving you tips to prepare a nice room that is safe and complete for all your needs.
1 – The choice of furniture
The bed: it is n°1 necessity of the room. Don't hesitate to get a baby bed with bars. It is much safer and more comfortable. Also, get a firm mattress but no blanket!
Storage: as long as it is for a baby, a dresser with drawers is more convenient. For the changing mat, you can get one to put on the dresser and when baby is big enough well you will just get rid of it.
The chair: a comfortable chair for you to get comfortable on when cuddling your baby or simply reading a nice story.
Lights: it is better to go for a light dimmer that will suit each occasion. In fact, baby doesn't need a strong light shed on.
2 – Decoration
As long as it's for a baby, you pick up the colors YOU feel comfortable with. Or simply go for white or beige with some blue or pink. However, no need to buy a lot of items. Simply choose simple accessories that will make the room special thanks to your own touch! Also, as baby is growing up, they will create their own environment and bring their own touch to their room.
3 – Check the temperature
In order that your baby sleeps well, you need to be careful with the room's temperature. It should be limited between 18° and 20° at night and 21° during the day. Don't forget also to air the room for at least 30 min/ day. Or you can put a dish of water in the room but remember to change it every day to avoid the proliferation.
4 – Optimize health and safety
For the safety of your child, you should take some drastic measures. First of all, let the wall painting that contains a lot of toxic elements, have enough time to dry and air before putting your baby in it.
Also, the furniture with sharp angles can become safe with corner protections.
Finally, regarding the electrical plugs, you can use the plug covers which remain very efficient for your baby's safety.