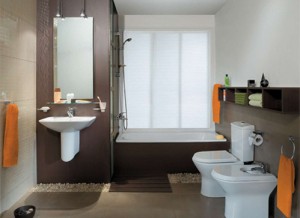 Whether you're preparing to sell your home or you simply want to add a bit of pizzazz, renovating the bathroom is one of the most noticeable improvements a homeowner can make. Strategic bathroom renovations can improve the home's value by as much as 20 percent, so it's vital to pick a bathroom style that fits your personal taste while meeting current market demands. Like anything else, the style of your bathroom can best be expressed in the details.
1 – Focus on Your Cabinetry
Bathroom cabinets take a beating throughout the years. Opening cabinets frequently for medicine, toothpaste and other necessities can lead to regular repairs and a great deal of wear and tear. Instead of replacing the entire set, re-facing cabinets is a budget-friendly solution that offers dramatic results. You'd be surprised at how re-facing cabinet doors and drawers can change the look and overall feel of an entire bathroom. Be sure to consider your personal style as you choose a design. For example, do you want a modern, fresh look in your cabinetry – or a vintage look that emphasizes aged beauty?
2 – Build a Strong Foundation
By replacing bathroom flooring, you're setting a strong foundation that will allow you to get creative with the rest of the room. The material and texture of the floor immediately sets the tone for every other piece in the bathroom. Generally, you'll want to opt for uniformity in flooring to create a feeling of cohesion. Investing in "dark" tiles allows you to add bright splashes of color in the shower, cabinetry and sink. Making an investment in new flooring is vital for any bathroom renovation.
3 – Think About Who's Using the Bathroom
Chances are that you have more than one bathroom in your home. To pick the perfect bathroom style, it's important to consider who primarily uses each bathroom. Is the room adjacent to the master bedroom, or is it for the kids? By acknowledging and understanding who will be using the bathroom most often, you'll be able to select the perfect style for your remodeling project.
4 – Consider the Rest of the Home
It's tempting to go overboard with a bathroom remodel, but it's important to consider the theme and "feel" of the rest of your home. A contemporary and flashy bathroom, for instance, might feel odd if the rest of your home espouses a relaxed, country feel. You likely already have a style that's defined the kitchen, living room, and bedroom. Why not find ways to infuse that style into the bathroom instead of trying to create a new one?
5 – Pay Attention to Color
It's usually best to select three colorsfor the bathroom. The second rule is to use each color at least three times in the room. This creates uniformity and allows you to express your unique style. Places where you can play with color include walls, cabinets, towels and furniture.