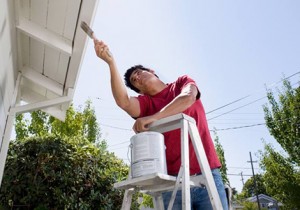 Spring is already here, and for many homeowners, it's the perfect time to freshen up the house. Harsh winter weather certainly takes its toll on the structural health of your home, but spring doesn't offer much respite, either. Heavy rains, strong winds, and wildly fluctuating temperatures can create an extremely hostile environment that increases wear and tear on your home. Before needing a restoration company, take steps to properly prepare for spring, so you can minimize and prevent any potential structural damage caused by inclement weather:
1 – Examine the roof
Look at the condition of roof flashing and caulking as well as the continuity of shingles to protect your home from spring thunderstorms. If you aren't sure about the structural health of your roof, it might be worthwhile to hire a professional to investigate. Loose shingles and caulking can result in water and structural damage during severe weather, so it's important to address those issues as quickly as possible.
2 – Inspect windows, doors, and other openings
Drastic weather changes can cause windows and doors to slightly separate from the frame. When this happens, air can seep in and out of the home. The result? Hundreds of dollars in utility bills can be spent keeping your home at a comfortable temperature.
3 – Clear the gutters
Leaves, dirt, and other debris collect in gutters during the fall and winter seasons. If gutters aren't cleared by the time spring thunderstorms arrive, water could back up and cause damage to your roof and walls. Clearing the gutters of remnants from last fall and winter will ensure the water drains properly.
4 – Begin landscaping considerations
Spring cleaning isn't complete without planting new flowers, laying mulch and keeping your lawn perfectly manicured. Preparing for landscaping now will ensure your home looks just right by the time summer finally rolls around. Clearing your yard will also make it easier to work on your home's exterior. Be sure to clear any walkways of debris such as twigs or leaves.
5 – Check your HVAC
Nothing is worse than having your air conditioner quit in the middle of summer in 90-degree heat. Your central air system deserves to be examined every spring, especially after a long winter of keeping your house warm. By having your air conditioning system checked each year, you can avoid those big-bill repairs on sizzling-hot summer days. Be sure to reverse the direction of your ceiling fans as well. During spring and summer months, it's better to push cool air downward. This also has the potential to lower AC costs.
6 – Test your safety equipment
Spring is the perfect time to check batteries in all smoke detectors, fire extinguishers, home security systems and carbon monoxide sensors throughout the home. Since these systems are generally out of sight and out of mind, it is vitally important to check them at least once a year to ensure you and your family are kept safe.
7 – Check your dryer vents
When was the last time you cleared your dryer vents? Clogged vents push warm air back inside, raising the internal temperature of your home and increasing your utility bill.