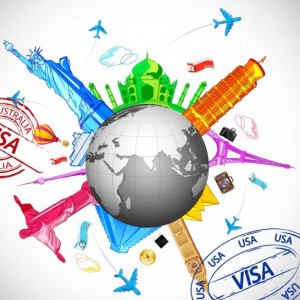 As a traveler, you have this dream of conquering the world. To you, it may mean climbing the highest peaks in every country. Others may have the goal of finding the best wine in the world. And some may simply want to bring their whole family to some fun destinations.
Whatever it is you want to achieve for your trips, you have to keep in mind that the world's changed and continues to every single day. You have to keep pace, especially with the safety and security measures.
Unfortunately, advanced technology has made global threats faster and smarter. You'll often hear in the news about travelers whose dream vacations turn into nightmares. But don't worry. There are also measures you can do to counter today's travel troubles.
Here are 10 simple things that you can do to ensure you a safer, happier journey:
Passport and Documents
1. Keep a copy of your passport
When overseas, your passport may mean your life's journey. Losing it or having it tampered with can definitely give you a lot of trouble. Scan it. Keep a printed copy of it and have one also safely stored in the cloud. You can check out these Information Security guidelines from Boston University to have a good idea on how to do it well.
2. Use a case to protect your passport
When choosing the perfect passport cover for today's traveling, you might want to check out an RFID (radio frequency identification) case. It doesn't just protect the document from being soiled but also from high-tech thieves who can hack their way to your personal and financial details by reading every RFID chip-equipped document you have – from passports to credit cards.
Cash and Cards
3. Check the status of your credit card or cards days before leaving
This will give you enough time to arrange for any bills unpaid or problems unresolved.
4. Note which cities or countries have warnings about credit card fraud
And heed such notice. Be mindful, too, which places are quite notorious for pickpockets and other similar threats.
5. Don't put all your cash, cards, and checks in your wallet
Bring a purse or bag with zippered pockets so you can keep a credit card or some cash in them. You can also keep some bills in a secured pocket in your clothing when you go out shopping or wandering around.
6. Be cautious when giving to beggars
In fact, it would be better to not give at all as it encourages them to stay begging. If you want to give to the people of the place you're visiting, course it through official charity organizations.
Communication
7. Keep someone back home informed about your whereabouts
It can be your mom, dad, spouse, friend, or someone who expects you to return home after your trip. Posting a photo of you near your destination's famous landmark can also let your loved ones know your safe and having fun. If you're a private person, you can just email.
8. Get an international roaming plan for your mobile phone
This may mean extra travel expense, but can save you a lot of trouble in case of emergency – or of sudden homesickness.
Read before you ride away to your destination. There are still more ways you can easily accomplish to keep you from possible problems while away from home. Keep yourself informed of where you should and shouldn't go and what you should or shouldn't do.
Author Bio
Ben Goldstein is a freelance writer whose specialization includes fashion and lifestyle news. His articles are also a great lifesaver when it comes to going anywhere on the planet.