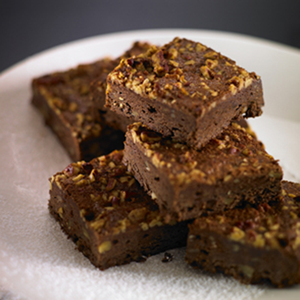 They have become the sweeties of modern times: their mixture of chocolate and walnuts is simply delicious.
We have selected for you this recipe from the famous master chocolatier LENÔTRE. We hope you will enjoy it!
Ingredients:
– 75g dark chocolate
– 300g walnuts
– 100g flour
– 250g sugar powder
– 1 packet of vanilla sugar
– 75g butter
– 4 eggs
Preparation:
Melt the chocolate in a water bath (bain Marie). Coarsely chop the walnuts.
Soften the butter, and then add sugar, eggs, vanilla sugar. Mix energetically to obtain a smooth mixture.
Add the melt chocolate, the flour, and 100g of chopped walnuts.
Butter the ramekin, and cover its bottom with parchment paper then pour the mixture.
Crumble the rest of the walnuts on the top.
Cook for 30 minutes in the oven at 170°C (th.5).