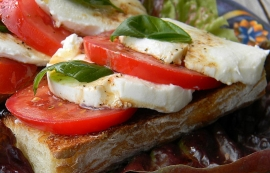 This is a fresh and light recipe that can be used as a starter or simply an appetizer. It is a recipe that you can need during summer heat!
Enjoy.
Ingredients :
8 slices of French bread
5 ripe tomatoes
250g of mozzarella
2 clove garlic
5 tablespoons of olive oil
1 tablespoon of vinegar
1 lettuce or rocket salad
1 bunch of basil
Salt and pepper
Recipe :
Toast the bread slices from both sides. Rub each side with garlic and then spread oil on the bread while it is still hot.
Cut the tomatoes and mozzarella into rings.
In a bowl, mix 4 tablespoons of olive oil with vinegar, salt and pepper
On each bread put tomato, mozzarella, inserting basil leaves between each. Drizzle with vinaigrette. Serve immediately with green salad!