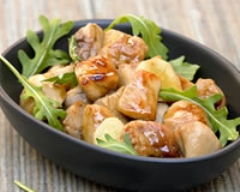 The simple things are always the best things and this chicken wok recipe proves it.  Easy and quick, you can prepare a delicious meal in 3 steps only and marvel your family!
Ingredients
1 Kg of chicken breast
6 tablespoons of honey
1,5 teaspoon of ginger powder
2 tablespoons of lemon juice
2 tablespoons of soya sauce
2 teaspoons corn flour
3 tablespoons of oil
Rocket leaves
Ground pepper
Recipe
Prepare the sauce: in a bowl, mix honey, pepper, ginger, lemon juice, soya sauce, and the corn flour.
Dice the chicken breast.
Heat the oil in the wok. Put the chicken parcels to get some color from every side. Lower then the heat and add the

honey sauce

you prepared earlier. Keep cooking while mixing continually all the ingredients until you all the chicken parcels are caramelized and covered with sauce. Finally take from the heat and cover the wok till you serve it hot accompanied with rocket leaves.