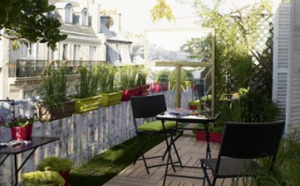 It is indeed possible to have that pleasure even though you don't have a garden.
You just need a little space in your balcony to feel like you have your own garden. Of course you will need to take a good care of your plants and flowers.
As a matter of fact, each balcony has its own specificity (surface, sheltered, open air, colors…). You need to take into consideration all these elements when planting your garden.
If you have a balcony facing south: it is mandatory then to create shady places and manage the light. For this, you can use a palisade in your balcony.
If you have a balcony face north: it would be better to go for shade plants as most plants and flowers don't survive the absence of sun or a weak daylight exposition.
If you have a balcony with half exposure (east and west): well, congratulations everything is allowed!
Also, you can use pots made of:
Plastics: they are light and you can have them in different colors and shapes. However, in summer, it is heated by the sunlight and desiccates the plants.
Terra cotta: absorbs humidity and keeps a fine temperature in the pots. Yet, it is heavy and difficult to move. Also, terra cotta recipients need continuous disinfection.
Finally, the watering is very important! Most plants prefer to have a dry surface before the watering. In summer, the watering needs to be done in the evening so the humidity is high and the roots have all night to moisturize. However, in winter, the watering must be done in the morning. It avoids the freezing of the roots.
Some of us might think that rain is enough to water the plants. Unfortunately, it is not true as the rain waters only the leaves and is not enough to fill the plants' needs.