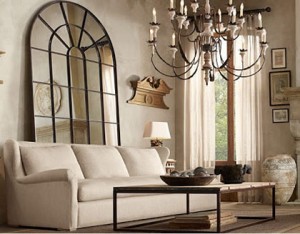 Mounting a chandelier is a great way to add charm and elegance into any space, even for modern ones. Contemporary and transitional chandeliers make it possible to create a big impression in a modern home's foyer, dining room, living room, and even in your patio. When choosing the right chandelier for your space, there are a few factors that you will need to consider, aside from design and materials, including size, type of light source, light output, and dimming options. Here are some tips to help ensure that you purchase a modern chandelier fixture that will not only look good in your home, but will also give you the practical benefits of flexibility and energy efficiency.
1. Modern Look and Design
When looking for a chandelier that has a modern look and design, focus your search on satin nickel or chrome finishes. Bronze finishes combine design elements from both traditional and contemporary styles and are usually found in transitional fixtures. Go for chandeliers with clean lines and minimal amount of elaborate decoration. Don't forget to keep in mind that the chandelier you will be purchasing should possess finish and materials that complement other finishes in your space.
2. Diameter and Height
If you are looking for a chandelier to install in your dining room, choose one with a diameter that is 1/2 to 2/3 the width of your dining table. A chandelier with four to six lights is ideal. Measure the height of your ceiling and that of your dining table as well. There should be a gap approximately 30 to 36 inches from the top of the table to the tip of the chandelier.
3. Energy Efficiency
Contemporary lighting designers and manufacturers now offer LED chandeliers which is a great option given their energy efficiency and longer life span. LED light bulbs are five times cooler than halogen bulbs, expending only 1/5 the energy that is utilized by halogens. Compared to other light sources, there is no need to replace LED lights often as it is projected to function for up to about 50,000 hours.
With the improvements in LED technology, you can hardly tell the difference between the lighting coming from an LED fixture and a traditional incandescent chandelier. Design flexibility makes LEDs the more preferred lights by lighting designers. LED light bulbs are very small, so designers no longer have to worry about hiding the light source. This gives them more freedom to explore different forms, functions, and materials.
4. Dimmer Option
Not all LED chandeliers are dimmable, so it is best to ask about this function before buying your chandelier fixture. There are many LED chandeliers available that are fully dimmable if paired with a compatible low voltage dimmer. Check the specifications of your fixture then refer to the manufacturer's recommendations for compatible dimmers.
Despite the fact that chandeliers are installed in homes for their decorative and aesthetic features, it pays to be a wise buyer and choose a fixture that will not only look magnificent in your space, but will also provide you with flexibility as well as efficiency.
Author Bio
Joan Silver is a known lighting expert from Capitol Lighting (1800lighting.com) and a fan of all things "lighting". She currently provides customers and designers with robust information on their lighting needs.