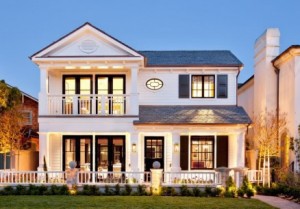 In order to achieve the highest offer possible from any potential buyers of your property, it is important to make it as appealing as possible in terms of looks and value for money. As such, the following information is designed to give you insider knowledge of how to create increased curb appeal with the minimal amount of effort and cash outlay when selling your home.
1 – Ensure the Property is Well Maintained
Nothing will put off buyers more than a poorly maintained property. This is because the majority of people are not able to see past the current condition and visualise what it could look like with some time and effort.
As such, it is important to present the house in the best possible manner. When doing this, pay particular attention to the areas that will help to create a great first impression such as repainting the front door, replacing rotting windows and carrying out small remedial works to cover cracks in render or blown brickwork. Whilst these might seem insignificant to the occupant, they will not to the potential purchaser.
2 – Replace the Garage Door
Homes that are fortunate enough to have a garage should pay particular attention to the door. This is because it will form a large part of the frontage of the house and one that is in poor condition is not only unsightly but is also unsafe.  So with this in mind, the best solution is to either carry out some repairs or install a complete new one in a style that is sympathetic to your homes existing overall architectural style.
3 – Hide the Bins
Over the last few years, more and more councils have adopted a policy of collecting bins every 2 weeks rather than once a week. In addition to this, with the introduction of large and unsightly wheelie bins and recycling boxes, people`s homes can start to look like a rubbish dump (especially over the Christmas holidays).
However, the solution to this problem is a simple one that is increasing in popularity. Available from many DIY stores are wooden bin covers that house the wheelie bins neatly inside out of view and thus provide a more aesthetically pleasing appearance to your property. Costing very little, they are a must have addition if you are selling your home.
4 – Beautify the Front Garden
Make sure that the front garden is well maintained, has some nice plants and is in general good order.  So if the space currently is a bit overgrown, make sure you trim back any large shrubs and trees that may be blocking light and useable space, cut the lawn and whatever you do make sure that if you have a pet that there is no dog foul lying there for all to see.
5 – Fit Gates & Railings
When selected in an appropriate design and material, the addition of a pedestrian gate and metal railings to the front of your property can have great results. Available in a huge array of modern and traditional styles like some of those seen here, not only will they help to enhance the look of the property but will also increase the level of security you currently enjoy.
In addition to the pedestrian access points, you should also install some double gates across the driveway so that it provides security for your vehicles.  Finally, for a nice finishing touch, it is also advisable to fit an automation kit to them so they can be operated at the touch of a button which will not only add more convenience but will also be a great selling point that will help attract technology mad buyers.
6 – First Impressions Count
Finally, it is essential to remember that  before any potential purchasers have even thought about requesting a viewing, they will have already seen your house advertised online so it is important that any marketing images are well taken and of a high enough quality that they look professional. This is because those first images will give a perceived impression of the house as a whole and will either attract or detract buyers.
In conclusion, it is easy to create a great first impression when you are looking to sell your home. By completing some of the above mentioned measures, it is possible to achieve the highest possible selling price for the minimal cash outlay and effort.