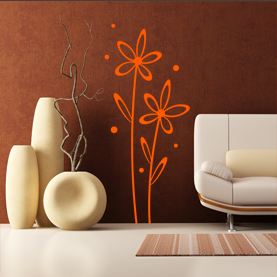 Your home is the most important place in your life. A home is where you raise your family and spend special occasions such as Christmas and birthdays. Having a clean and welcoming space for you and your family is the basis to living a healthy and invigorating life. One of the most standout features in any home are the walls, and it is possible to utilise them to add personality and interest.
We've got some great tips on how to bring all the walls in your house to life. Many people like to paint their walls a neutral colour and are happy with that, but there are also many people who want to add designs or decorations to add personality and interest to their home.
1 – Wall Stickers
Wall stickers are a fabulous way to add beauty to your walls without having to spend a lot of money or do a great deal of work. As this type of art is in sticker-form, they can be removed whenever you want for a different design, or they can be transferred into different rooms at any time.  The great thing about wall stickers is the huge number of designs available, which will enable you to find something that you love and that matches your personality.
2 – Decorative Mirrors
Mirrors are perfect for making your walls look dynamic. Mirrors with different shapes and edges can add the illusion of extra space and added light. There are so many different decorative mirror designs available. A large driftwood mirror looks amazing in a larger, traditional house, whereas a decorative, circular mirror will compliment a modern décor.
3 – Paint Your Walls in Vibrant Colours
You don't have to paint every wall in a neutral colour, and painting a wall in a vibrant or favoured colour is a great way to show off your personality. Smaller rooms look better with more neutral colours to make them look larger, whereas with larger rooms it is easier to use brighter colours. Painting a whole room in one bright colour can be over-whelming, so why not choose a feature wall, such as the wall behind the bed or sofa?
4 – Photo Canvases
Turning one of your favourite family photographs into a canvas, such as a wedding snap or pet portrait, is a personal way to decorate your walls. It is a great way to show off your favourite family photos, whilst also making your home look personal and stylish!