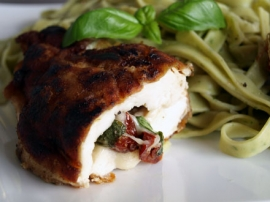 This is a special Italian recipe: light, delicious and very easy to prepare! In these times of heat, try not to stay long in the kitchen; you can marvel your family in a short time.
Ingredients
2 thin chicken slices
4-6 sun dried tomatoes
6 basil leaves
One mozzarella ball
Salt and pepper
Flour
Toothpicks
Recipe
Salt and pepper the slice interiors. Then put the sun dried tomatoes inside with the basil and finally cover with mozzarella.
Lower the upper part of the slice on the low part where tomatoes, mozzarella and basil are arranged so to imprison the stuffing.
Use the toothpicks to close the chicken slices.
Flour the two slices. You can also soak them in the egg and the breadcrumbs so to get a better ground crumb.
Fry the chicken in butter on medium heat for 15 minutes.
Take off the toothpicks before serving!