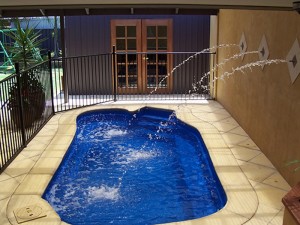 Having your very own swimming pool is a huge privilege, but people often give up on this idea due to some common misconceptions. Let's see what they are.
1. I Can't Afford It
Owning a swimming pool is probably lot easier than one might think. If your budget is restricted, you don't have to choose a huge, posh formal pool, as there are numerous much more affordable options, as well. Your pool will also help reduce other expenses, including the money spent on vacations away from home, beach admission fees and memberships in community pools. You can also finance your pool with different payment plans, some of whom come with surprisingly low interest rates.  Using this pool financing calculator will allow you to make the right assessment.
2. There's No Room for It
Swimming pools can be built in different sizes and configurations, ranging from very small to extra spacious, so there is a solution for practically every backyard. Many established swimming pool builders now even offer a no-obligation backyard survey free of charge, where their factory-trained professional come to visit your property and inform you about the entire scope of possibilities regarding size and shape.
3. The Construction Will Disrupt My Yard and It Will Last Too Long
A good understanding of the entire installation process can help you get realistic expectations about the completion of the project. As you certainly don't want your backyard disturbed by in-ground construction for a prolonged period of time, you should know that it usually takes shorter than you think to put everything in place. Although it is true to say that the project completion may vary depending on the design's complexity, it usually takes 3-4 weeks from start to finish. A good pool building service should lead you throughout the process, constantly keeping you informed of the schedule.
4. There Will Be Too Much Maintenance and Repair Work
Many people tend to think that having a swimming pool is a real chore and compare it to adding an extra room to your housecleaning routines. Little do they know that pools now come with state-of-the-art filtration system and are virtually self-cleaning, making tedious daily cleaning and vacuuming unnecessary. And if you think that pools require constant repair, you should know that only a modicum of care will to keep them in good condition. Proper winterization of your swimming pool, minimal in terms of both time and effort will substantially reduce the need for repair works.
5. My Utility Bills Will Go Up Considerably
Eventually, some potential swimming pool owners are discouraged from having one on their property thinking that it will notably increase their utility bills. In reality, these expenses will increase somewhere between $25 and $40 a month, but only during the months when you are actually using your pool. You have to that this amount is next to nothing when compared to the sums you'd otherwise spend on vacations, trips to community pools and beach areas, and entertainment. If you are still not convinced, a single room air conditioner can bring about an electric bill rise of $100-150 a month.
Author Bio
Lillian Connors is a blogger and home improvement enthusiast ever so keen on doing various DIY projects around her house and passionately writing about them. She is also an online marketing consultant, closely collaborating with a number of companies from all over the globe. You can check her out on G+, Facebook and Twitter.