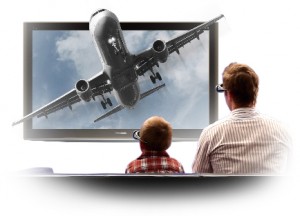 As 3D technology becomes increasingly more impressive, you may ask yourself if a 3D TV is your next big entertainment investment. The best 3D HDTVs display lifelike, vibrant images that seem to come out of the screen and into your living room. Three-dimensional films are no longer cinema exclusive; they are now a very real option for your home theater.
What to Look For :
Features
We rated 3D televisions on their features such as the number of different types of audio and video connections they have. We also looked at whether the TVs can connect to the internet and your network, and whether they offer 2D to 3D TV conversion.
Specifications
In this section we looked at each TV's screen size, display technology behind the flat panel, refresh rate, color reproduction and contrast ratio. The best 3D TVs have a refresh rate of at least 240Hz to reduce motion blur in action scenes, and we reviewed plasma, LED and DLP HDTVs.
Accessories
Here we evaluated what accessories are included with the TV. For example, some of the TVs include one or two pairs of 3D glasses, while others don't include any.
Help & Support
If you experience any problems with your new TV purchase, you want to be sure that the manufacturer provides enough support to help you fix the problem as quickly and painlessly as possible. Manufacturers with strong product warranties, help documentation and live chat support scored higher than the rest.
Evaluation :
| | | | | | |
| --- | --- | --- | --- | --- | --- |
| TV | Overall rating | Features | Specifications | Accessories | Help & Support |
| 1- Panasonic TC-P55VT50 | 9.90 | 10.00 | 10.00 | 9.38 | 9.38 |
| 2- LG 55LM7600 | 9.10 | 9.38 | 8.75 | 10.00 | 7.50 |
| 3- Sony XBR-HX950 | 8.73 | 8.75 | 8.75 | 8.13 | 9.38 |
| 4- Samsung UN55ES8000F | 8.50 | 8.75 | 8.13 | 9.38 | 7.50 |
| 5- LG 60PM9700 | 8.48 | 9.38 | 8.00 | 6.88 | 7.50 |
| 6- Sharp LC-60LE845U | 8.40 | 8.13 | 8.75 | 7.50 | 10.00 |
| 7- Toshiba 55L6200U | 8.13 | 8.75 | 8.13 | 7.50 | 3.75 |
| 8- Panasonic TC-P55ST50 | 7.95 | 7.50 | 8.75 | 6.88 | 7.50 |
| 9- Vizio XVT3D580CM | 7.28 | 6.88 | 7.50 | 7.50 | 8.75 |
| 10- Mitsubishi WD-60638 | 6.45 | 6.25 | 6.88 | 5.00 | 7.50 |
Comparisons :