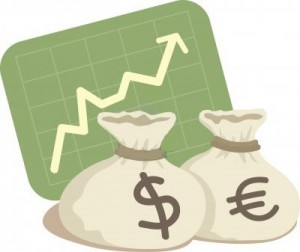 Everybody is continuously seeking to increase his income. Extra money can be put aside for when times are harder, or buy you those little luxuries.
There are many ways to earn extra money, some will only bring in a small amount, but even a relatively small amount can make a difference to the family budget. So here are the top 10 ways to increase your income in 2013.
1 – Ask your employer for a raise
Want more money than you're currently making? If your goal is to stay in your current job, you'll need to ask for a pay raise.
Explain to your boss why you deserve a raise and how much you think you're worth. Include examples of how you're making a difference.
2 – Change your job
One of the best ways to increase your income is to find a job that offers a better pay. In the present climate, this can be really tough, but it's still possible if you know how to search. If you have skills that are in demand, look for offers giving you more responsibility and a higher pay.
3 – Look for a second job
Rather than just wasting your free time, you could get a second job. Make sure that it doesn't conflict with your main job and leave you too tired. Don't forget that you also need some time for your family and to relax. If you can manage it, then a second job will boost your income. It doesn't have to be long-term; you could do this only to face a difficult situation.
4 – Teach
Teaching is an excellent way to increase your income in the long term. If you have a skill (languages, maths, art…), you can for example teach at night school or even tutor privately. If you are good, you will often get more pupils from word of mouth.
5 – Learn new skills
Improving your skills can give you an advantage in the job market. Look into learning some new skills, with more qualifications you can pursue a better career or get a promotion. Moving up in your career should bring a better pay packet with it.
6 – Sell your old stuffs
Most of us have lots of old stuffs that we don't need anymore. Sort out all these items, then have a garage sale or list them on eBay for example. This won't bring you a regular income, but it is a good way to earn some extra cash.
7 – Sell your services
If you need to make some extra cash, there are a lot of websites where you can promote your services, such as fiverr.com and seoclerks.com. On fiverr, you will sell your services for 5$, on seoclerks you fix your price.
8 – Freelancer websites
Websites such as freelancer.com and elance.com can boost your income. You will be competing against people in other countries who can charge low rates. Write a good profile and provide examples of projects you have worked, this will help you.
9 – Start a website or a blog
Sure, competition in the online world is rough, but one thing that makes a good site or blog stand apart is the dedication and enthusiasm of its writer. Write about things you're interested in, and when you start getting a good traffic think about monetizing your website/blog from Google Adsense, Media.net, Buysellads, Amazon…
10 – Small business
Setting up a small business can be a great idea. Look for something that has low set-up costs and treat it as a way to bring in a little extra.