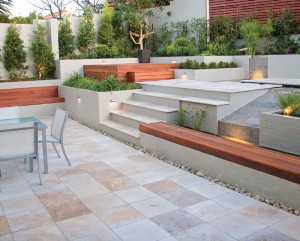 It is true to say that travertine pavers aren't as nearly as popular as other paving materials as brick and granite and, but in reality they are much more than just a viable paving option. With this in mind, let's learn something about them.
About the material
First of all, travertine is a highly durable material, similar to granite. You probably didn't know that one the world's most famous extant structures, the Colosseum, dating back to the Roman Empire, was made almost completely of travertine. The fact that this splendid material retains its colour even when permanently exposed to weather changes is another thing that makes it practically timeless.
Travertine pavers are ideal for use in the areas where aesthetics is a prominent consideration. This material comes in a number of gorgeous colours, patterns and finishes, which are bound to captivate your fancy. With regard to patterns, you can opt for, say, herringbone, star, diamond-cut, basket weave, mosaic, fish, , rattan, among others, while finishes include antique, tumbled and honed, to name a few.
Since it is also a great border material, travertine can provide you with different accent effects. Border design options commonly include the likes of art deco, gothic, wrought iron, stars, or wicker, while the themes range from those that are really state-of-the-art in its appearance to more traditional options. This abundance of options allows you to attain a genuinely personalized look.
Various applications
Knowing that it is among the most versatile paving options, it is no wonder that property homeowners are increasingly choosing
high quality travertine pavers
for various applications on their properties.
1- For instance, why should anyone settle for a plain-looking patio when with these pavers it is possible to construct a stunning one that will certainly look sleeker and make your patio more pleasant and enjoyable.
2- Using travertine for balcony flooringwill inject a much needed dose of splendor into your home, and if you use this material for your pool deck, you will create an absolutely stunning setting for bathing or simply chilling by the pool.
3- Travertine pavers can also be used for creating scenic walkways on your property that invite people to stroll across them, thus encouraging healthy habits. By the same token, a colourful travertine design can also make for a perfect jogging lane, making it a real pleasure for you and your family to pursue this activity on it.
4- Moreover, a skillfully-designed, captivating driveway made of this material will definitely make your driveway (and the entire home, naturally) more welcoming for your guests. You can also use it for garden edgings and borders, considerably enhancing your garden beauty.
Eventually, travertine pavers require minimal maintenance efforts and sell for significantly less than some other paving materials. For these two reasons alone, it is an outstanding material that you can use to solve all your paving needs, so don't think twice.
Author Bio
Lillian Connors is a blogger and a home improvement enthusiast keen on doing all sorts of DIY projects around her house and passionately writing about them. She is also an online marketing consultant, closely collaborating with numerous businesses from all over the globe. Check her out on G+, Facebook and Twitter.