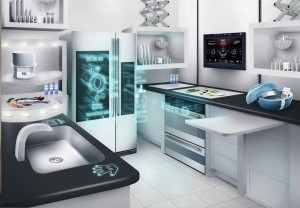 In the era of all things are smart and wireless, it's no wonder our homes are becoming all button-operated as well.  From massive surround sound speakers and breathtaking home cinemas to smart window blinds, advanced heating and air-conditioning systems and wireless home monitors, the room for state-of-the-art upgrades available to hi-tech geeks seems limitless – and thanks to the growing number of gadget manufacturers joining the smart bandwagon, these luxury commodities have become dead-simple to find, install and use too. Let's take a closer look at some noteworthy advanced technology solutions for an average smart home.
1. Intelligent Windows and Blinds
Say goodbye to manually operated blinds and hail the new remotely controlled shades. With the latest smart blind systems with automatic schedules and configurations, your home will stay well-protected from harmful UV rays and excessive heat at a simple press of a button. But that's not where the fun stops – with the growing number of smart home tech solutions, it was only a matter of time when someone would think of electrochromic glass. An innovative electrically operated window pane that changes color when an electrical voltage is applied across it, electrochromic glass is eco-friendly and provides better sun protection, security and privacy from nosy parkering neighbors.
2. Versatile Bluetooth Speakers
On the market of wireless speakers, new solutions seem to appear on a daily basis and the most popular ones are those than can do quite a few things other than play music. For example, one of the latest crazes in the Bluetooth boombox category is a speaker built into a shower that helps you blend your daily bathing and karaoke sessions without risking your sound system getting broken or damaged due to excessive exposure to water.
3. Home Theaters and Smart TVs
Back in the '80s and '90s, people had to pay a ticket to watch a movie on the big screen. Nowadays, watching your favorite films and TV shows on a hi-res screen right there in your bedroom has become far easier thanks to the multiplying home cinemas and 4K TV sets. Apart from being big enough to cover your wall from one corner to the other, home cinemas deliver super-sharp images and almost all smart TVs are compatible with gaming consoles and similar devices. If you have already considered installing a home theatre system, you should know that even though it's a rather easy procedure, you should leave it to professionals if you don't know what you're doing.
4. Smart carpets and flooring
In addition to most standard home appliances, floors have taken a turn to the smart too, and now you can get your carpets and floor textiles to track your every move thanks to the onboard ultra-sensitive motion sensors. Laid out much like any other flooring cover, smart carpets track your steps and point the way for you – and for an added tech touch, they can even transmit messages. Now that's something no lush Persian rug can do – but it may well come mightily in handy at times.
5. Wirelessly controlled LED bulbs
An energy-efficient alternative to traditional light, LED bulbs are gaining popularity fast and the number of these advanced lighting solutions has been increasing at an unabated pace for a while now. Most world-famous tech manufacturers like Philips and Cree have already released their takes on innovative light, and some of them (like Philips Hue and Misfit Bolt) can even change their color patterns and allow you to control the hue combo by applications for smartphones and various other mobile tech.
So, are you ready to turn your home into an intelligent safety bubble in its own right? You'd better be, because traditional home appliances and gadgets seem to be losing ground and giving over to smart tech solutions fast. Before we know it, we may be facing a completely new concept of home and it'll probably be far more advanced than any technology expert or gadget enthusiast could have ever dreamed.