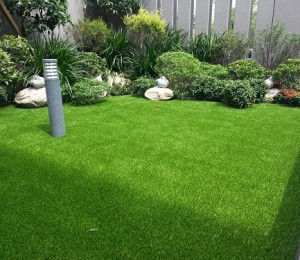 When the sun starts to shine, our thoughts turn to one thing and one thing only – being outside. Whether that's lounging in the park, barbecuing in the back yard or chilling out on a sun lounger with an ice cold drink.
For the green fingered amongst us, the warmer months are also a sign that it's gardening time. However, we all know that the cold weather is not kind to gardens, and one look at the state of a winter-bedraggled lawn can be enough to make even the most eager gardeners retreat back inside.
It doesn't have to be this way though, because artificial lawns are here to save the day. Think an artificial lawn means a plastic looking garden? Think again. The shiny green finish and monotone colour are a thing of the past – artificial lawns now look as convincing as the real thing. Still unsure? Here are some common myths debunked.
An artificial lawn will make my garden look fake
Not true, it's now difficult to tell the real deal from the artificial stuff. Artificial lawns can also make your garden look a lot healthier. Unlike real grass, there are no muddy patches from people strolling across the lawn and weeds are no longer an issue.
You also don't need to cut it, so it has a constant tidy finish. The best thing to do is to combine artificial grass with real flowerbeds and plant pots, adding colour and a natural beauty to your garden – one that's easy to maintain.
An artificial lawn won't attract any nature like real grass does
This is true, but real grass doesn't really do this either. Other than a few worms to feed some hungry birds, it's more your plants, shrubs and trees that appeal to the local wildlife.
Having an artificial lawn gives you more time to spend planting flowers to make your garden look wonderful and attract plenty of local wildlife. Try to go for seasonal flowers and make sure you're planting them in an area with the right amount of sunlight.
Trees give bird a place to nest, but can also provide fruit for foxes and even badgers. Holly bushes are great for small mammals, while taller flowers will appeal to bees and dragonflies. You could even create a water feature to attract amphibians or a birdbath to encourage plenty of wildlife.
Artificial lawns are a lot of hassle to take care of
Wrong again! It's much easier to look after than real grass. There's no mowing, no water logging and no need to spend hours tidying it up after the long winter months.
All it takes is a quick half an hour once every few weeks to keep it looking great. Spend a few minutes removing twigs, branches and rubbish from your lawn, then use a leaf blower to get rid of any smaller debris that might have blown into your yard. This also fluffs up and flattened grass to instantly revitalise your lawn. Quickly hose down your artificial lawn with plain tap water to keep it nice and clean and that's pretty much it.
This means on a sunny day you can set up the lawn chairs and get out there in the sunshine as soon as possible!
Author Bio
Lee Tombs is the Founder of Artificial Grass Installers, with over 10 years of experience, Lee and his team have installed artificial grass in hundreds of homes across Essex, London and Hertfordshire.