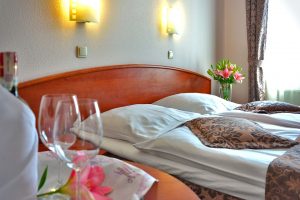 Summer is coming up and with all the wonderful places we'd like to see while on vacation, one of the things one has to make considerations of is the cost of everything. By this, it also means the cost of staying in a hotel. Many people would have loved to stay in a hotel, however, some hotels are far too expensive to book. Well, worry not! Your hotel stay does not have to break the bank if you know some trick here and there in order to get the best deal out of the hotel that you are planning to book.
To start with, there are actual strategies that you could do in order to keep the cost for your hotel budget, for a more comfortable stay in places that you visit. Follow these simple steps and you never have to overpay:
TIP #1
Book your stay during the off peak season. Time has value. Booking a hotel is a matter of supply and demand. If the place you are visiting is having a festival or special event of some sort. Expect the booking prices to go up, but if the lean season you can expect a more affordable room rent, for that particular place.Some of them even run on promotions to attract guests to book to them.
TIP #2
Ask for a corner room. This is just so you can get more space for the same price. The best way to do this is to make sure there are less guest to be assisted when you ask and your queries will most likely be taken care of and request granted.
TIP #3
When booking in the summer, check out some business hotels for booking. They can actually provide you with a very favorable deal because the business is usually slow during the summer season and most business hotels that cater to business travelers would provide lower prices for their guests.
TIP #4
No to 800 numbers. This means instead of calling the toll free numbers for the hotels, just call the hotel directly. Because people who directly works in a hotel, has the power to upgrade you when it becomes possible, as opposed to a third party agent who just answers calls for the hotel. Also, when you have a hotel that you frequently stay in, make it a point to make friends with the staff. You can can get a good if not better service by doing so. Booking your stay directly at a hotel also increases your perks at their establishment.
TIP #5
Get a bundle package. This is a tested and proven more affordable method as opposed to  paying for each service, save more by booking your flight and hotel stay altogether.
TIP #6
Loyalty programs at hotels can provide you better access to facilities you others will need to pay extra for such as using the hotel wifi, or a free nights stay. Some comes with a little souvenir when they book.
TIP #7
Coupon codes. They are not so bad to use. You can check on the websites DealsPlus.com or Coupons.com and you'll be pleasantly surprised that yes, travelers can get coupon codes from them too. They not only include discounts in hotels room Broomfields, but also your flights.
TIP #8
Don't be afraid to mention special days. Whether it's birthday, wedding anniversary, honeymoon or a special engagement you have planned out. When hotel staff learn about them, they would usually make your stay extra special, and you can also get an upgrade for doing so.
TIP #9
Give a referral. Not only will this bring in new business for hotels but they will also give you bonus points that could be convertible to a hotel stay or free use of paid amenities. Some would give you discounts if you refer a friend to stay at their hotel.
TIP #10
Membership programs and credit cards. Use them. Membership programs provides you discounts. Some credit cards provide bonus points the they called rewards programs. Hotel perks are really good you can't enough off.
There you have it! Enjoy your next vacation!