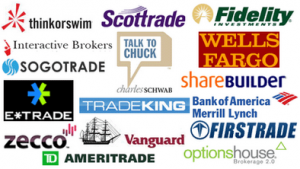 Choosing an online stock broker is one of the most important decisions a stock trader will have to make.
There are over 50 online brokerages. The best accounts aren't just for trading stocks, but also for saving, investing, retirement planning…
When searching a new broker, you should compare online services to find the best trade platform that suits your investment style and needs. Some key factors to analyse :
Fees
Fees and commissions varies according to the broker, most services charge fees for trades, option trades, broker assisted trades…
Trading tools
The best online brokers offer helping tools such as investment calculators, cell phone alerts, useful charts, analyst reports…
Investments offered
Almost all online stock brokers offer the ability to buy and sell stocks, options, mutual funds and exchange-traded funds. Comprehensive services also provide access to international markets as well as investment services or options for retirement and education saving…
Support
Problems can occur when you're buying and selling stocks online, that's why the best brokers provide great support (telephone, email, chat…).
Mobile Access
Mobile access is offered via apps or through a mobile-optimized version of website. The best online trading sites offer both options.
Top 10
| | | | | | | |
| --- | --- | --- | --- | --- | --- | --- |
| | Score | Fees | Tools | Investments | Support | Mobile |
| 1- OptionsHouse | 9.57 | 10.00 | 10.00 | 8.13 | 9.38 | 8.75 |
| 2- TradeKing | 9.38 | 9.75 | 9.38 | 9.38 | 9.38 | 8.13 |
| 3- optionsXpress | 9.32 | 8.50 | 10.00 | 10.00 | 9.38 | 8.75 |
| 4- TradeStation | 9.10 | 8.13 | 10.00 | 9.38 | 9.38 | 8.75 |
| 5- Fidelity | 9.05 | 8.75 | 9.38 | 8.75 | 9.38 | 9.38 |
| 6- Scottrade | 9.00 | 8.75 | 9.38 | 8.75 | 9.38 | 8.75 |
| 7- E-Trade Financial | 8.88 | 7.50 | 9.38 | 10.00 | 9.38 | 10.00 |
| 8- TD Ameritrade | 8.85 | 7.50 | 10.00 | 9.38 | 8.75 | 8.75 |
| 9- Merrill Lynch | 8.73 | 9.38 | 8.13 | 8.13 | 8.75 | 9.38 |
| 10- SogoTrade | 8.70 | 10.00 | 9.38 | 6.25 | 8.13 | 5.63 |