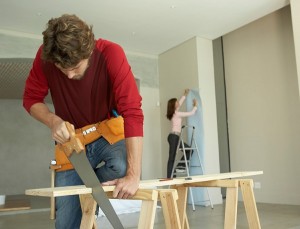 You may have been living comfortably with your family, but there comes a time when you need to redecorate your home. Obviously, doing so is important in order to provide a fresh, new outlook and overall vibe not only for your family, but for your guests as well. Revitalizing your home could be expensive, but if you don't want to spend way too much, you can actually take advantage of budget-friendly tips for refurbishing your humble abode. The tips enumerated below are greatly helpful in ensuring that you display your creativity in redecorating your home without having to spend a lot of money in expensive replacements.
Tip #1
Redecorating on a budget usually starts with removing any clutter that you may have in any of your rooms. You will notice that you've opened up more space than before.
Tip #2
If you want to still maximize your remaining décor items, you can actually move them in a different part of a room or to another room. Changing the location of a certain piece of furniture or any item in your living room or bedroom help create a better perspective in the way you use the room.
Tip #3
Change curtains while you can. Whether it is in the living area, bedrooms, or dining area, updating your window curtains can further beautify your whole home.
Tip #4
You can repaint the interior of your home, especially if you want to make it livelier than ever. But instead of repainting all walls and ceilings of the living room, or any room for that matter, you can just paint a single one. That way, you can make that one wall a point of focus because it is of a different color from the rest. The ceiling, for instance, can be given a softer hue to separate it from the intense colors of the walls.
Tip #5
Clean and organize the outdoor furniture pieces at your backyard, garden, pool area, or patio. Doing these will give your outdoor a more refreshing and organized look.
Tip #6
Replace old and damaged outdoor furniture. You don't need to spend thousands of dollars for replacement; instead, you may want to go to thrift stores or to furniture stores that offer big discounts. However, make sure that new ones you will buy will match your outdoor's theme and style.
Tip #7
If you have paintings hanging on the walls of your house, you can actually rearrange them, placing one on a different room or wall. You will notice a transformation in the overall look of your home's interior right then and there.
Tip #8
Update your lighting. For instance, you can purchase new lampshades of a different shape to be placed in your living room or bedroom or the corridor leading to your bedrooms. Also, if your budget allows it, you can install chandeliers to replace your overhead lighting. Here, it is important that you hire professional help in installing it.
Tip #9
If you have a mirror hanging around, you can put it beside the window of a dimmer room that you have in your house. That way, the room can make the most of the natural and artificial light to further illuminate the room.
Tip #10
You can update the pulls and knobs of your drawers and cabinets in your home and replace them with affordable options that are found in furniture stores and thrift shops. There are numerous styles to choose from, as long as they are within the budget that you set up.
There are a lot of ways on how you can redecorate your home while on a budget. You can actually ask a friend to give you advice on what to put, replace, and refurbish and your home. Whether it is creating a focal point or placing certain accessories and decorative items in different places, the point is to ensure that you make your home as good as new again, without having to spend more.