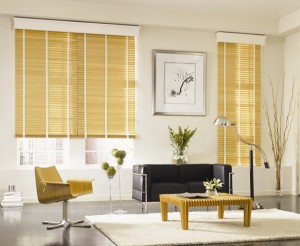 Window shades not only accent the decor of a room, they also allow in varying degrees of light and limit the amount of heat that may be generated by sunlight entering into a room. Cordless window shades are available and beautiful. They are extremely versatile and do not detract from the beauty of a room by adding long, unsightly cords.
A few of the factors you need to consider when buying shades are as followed: the lighting, color, texture and type of shade.
1 – Color
Lighter colors will allow more sunshine to enter the room if they are thin enough. A shade made out of light colored materials may let in more heat than those created with darker colors. In some rooms, the color of the shade isn't as important as a factor as it is to know how much light or heat it will allow into the room.
2 – Texture
Texture is also important when choosing a window shade. Shades are made of several different types of materials. Vinyl, bamboo, wood slats, cloth and mesh are just a few of the different textures that are used in the construction of both vertical and horizontal blinds. A mesh shade may have a backing material added to prevent it from being too sheer or see-through. It will also make it sturdier if it is to fold up like a roman or accordion style shade.
3 – Light
Shades are often put in windows so the curtains do not have to be open and closed each day. It is much easier to control the amount of light and heat that enter a room, with the use of a shade. Vertical shades work well for large windows or sliding glass doors. Accordion or Roman style shades are ideal for smaller windows. They also allow the benefit of being able to adjust how much light is allowed to enter the room. The shade can be raised to the top for full light, or just a few inches for a minimal amount of natural lighting.
4 – Decor
The texture and color of a window shade can greatly enhance a room's decor. Darker colored walls can be contrasted with a lighter shade to enhance the amount of natural light that enters the room. The same is also true when a darker shade is used against lighter colored walls. The only difference being, instead of brightening the room, the dark shade mutes the natural light, giving it a softer glow.
5 – Roman Shades
Roman shades are becoming increasingly popular. The old roll up shades are still quite adequate and work extremely well, but when added flair or decoration is desired, a Roman shade gives a more refined look. Roman shades that are made of wood and cloth, allow small patterns of light that increase the character of the room. Roman shades can also be made with materials that reflect sunlight and keep the room from becoming overly hot during the heat of the day.
Before purchasing your shades, take into account the size of the window and the room. Determine the amount of natural light you desire to let in and select colors that will match the rooms décor.
Author Bio
+Paul Reichman years in home fashion experience have enabled him to offer all your home furnishing and decor needs with unique flare and style at Bedbathstore.com