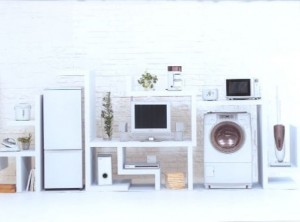 It is important to realize that not only your home, but your appliances need some maintenance as well. There are many gadgets which need proper care if you want them to last longer. Furthermore, it will be cheaper to repair and keep them in a good condition than to buy new ones. On the other hand, proper maintenance is important if your appliances are still under warranty and if anything might happen to them.
1. Keep your microwave working
Owning a microwave nowadays is not a luxury anymore, however, it does require some thorough cleaning in order to make them be part of your kitchen for the coming ages. Properly cleaning and maintaining your microwave is not hard, and it will require a little bit of dedication each time you clean it.
2. Keep your coffeemaker clean
Whether you use a special kind of coffeemaker, or if you use a simple water-boiler, it is important to keep it well maintained as lime scale can not only damage your health, but it can ruin the appliance as well. Make sure to clean it regularly and thoroughly.
3. Keep your vacuum cleaner operational
A vacuum cleaner is a very useful tool in your household, and if you want to keep it for a long time, it is vital that you take good care of it. Although it seems paradoxical, but there are certain rules on how to clean a vacuum cleaner that many should consider reading.
4. Keep your dryer in a good shape
While it is important to be able to air-dry your clothes, in most cases it will be impossible due to some specific reasons; in those cases you should consider using a dryer. However, it is imperative to have your dryer in a good shape, so that it can keep on working properly and without any issues. Depending on the type you are using, there are some steps you have to take in order to keep it well maintained.
5. Keep your heaters in check
If you need hot water, it is necessary to keep your water heater in top condition as the accumulated lime scale can damage the heater and consequently damage the whole heater. It is better to have it regularly maintained, as you will be able to notice any early signs of damage, and it will be definitely cheaper than buying a new one, if anything would to happen.
6. Keep your landlines speck-free
The telephone is one of the dirtiest appliances in your home, and you should be cleaning in regularly, and disinfecting it as well; because a lot of germs and dirt gets on it. In order to keep it working regularly, make sure the batteries are working optimally for the cordless ones, and make sure that the buttons are working as they should for corded ones.
Avoid damaging your appliances
You should keep in mind that by maintaining your appliances regularly, you can avoid doing any damage to them, and you will be able to notice if something is not working in time. Moreover, you will ensure that your gadgets and appliances keep on working for a longer time. Always follow the instructions on how to maintain them, because you might use a chemicals or something else that might damage your appliance in the end.