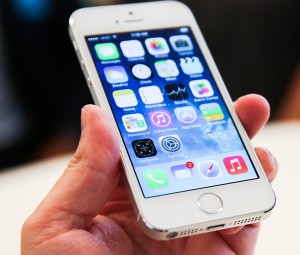 Apple 5s have come up with new features, enhancement to previous iPhone 5 model together with some external changes with glossy finishing look. Apple 5 and Apple 5s might look same but there are few improvements you can talk about, here are some great 10 features about Apple iPhone 5s.
1. CPU Performance
Apple 5s performance is better than its previous model Apple 5 , the latest model has A7 chip with 64-bit architecture. Apple 5s has an additional feature called M7 motion coprocessor to collect and process sensor data.
2. Touch ID
IPhone 5s provides fast and easier access to your iPhone through Touch ID. Touch ID is fingerprint identity sensor, which stores your fingerprint as passcode. Touch ID reads this data and unlocks your phone.
3. iSight Camera
The iPhone 5s has 8 mega pixel camera similar to iPhone 5. 5s camera has an additional 1.5 microns which gives more clarity to images compared to iPhone 5. Auto image stabilization is also an added feature in 5s.
4.Burst Mode
Take rapid-fire shoots with iPhone 5s. Touch and hold the shutter button on your iPhone to take multiple photos in Burst Mode. Burst This mode takes photos at up to 10 frames per second, so you won't miss the best shot.
5. iOS 7
iOS7 has really awesome interface. With release of iOS7 all iPhone 5s apps are well optimized with 64-bit A7 chip. All models of 5s have shipped with Auto-HDR facility, which allows taking pictures in low sunlight.
6. Slow Motion Videos
With iOS7 in iPhone 5s you can record videos at 120 frames per second with clear slow motion. Once you're done with capturing the video you can manage the playback speed. This feature looks great and promising.
7. Improved Battery Life
Apple has managed to slightly improve the battery performance compared to iPhone 5. The full battery life of iPhone 5s supports 10 hours  internet usage, talk time, music steaming and video playback. Well it's also seen 5s has bigger battery size compared to Apple iPhone 5 model.
8. Ultrafast LTE Wireless Support
Apple has managed to support 13 LTE bands which means iPhone users can experience fast downloads and upload speeds in more number of places around the globe and it's growing. This number is better than any other smartphone providers.
9. Free apps Upgrade
Apple is offering free iWork creation apps for free to new users who buy iPhone 5s. Apps, which are shipped with iWork creation, are iPhoto, Pages, iMovie, Keynote and numbers. These apps are worth of $40.
10. Apple cases and Docking System
Apple have come up with beautiful cases for 5s model, crafted from leather which gives luxurious look. They come in six different premium colors, and having them on your 5s, your device looks slim and elegant. The iPhone 5s docking system supports audio line out , sync facility with charging .
Author Bio
Navneet is Editor at Javamazon. He writes on Xbox and PS4 Gadgets, Apps Reviews and Social Media. Follow him on Google+ and Twitter.