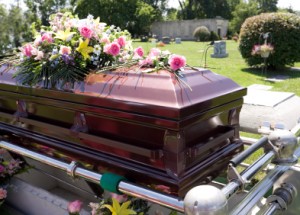 Although 2013 has seen signs that the economy is recovering, people are still facing a crushing squeeze on their living costs. The amount that people are having to shell out to keep a roof over their head and food on the table is rising fast. Funerals are one of many services that are rising in cost faster than the rate of inflation. How can you cope with ever-rising funeral costs in a tough economy?
Mortuary Mythology
This is a term coined by Josh Slocum of the non-profit watchdog the Funeral Consumers Alliance (FCA) to describe all the things that people think they know about funerals that are usually wrong. To beat the high cost of funerals you need to know the law, shop around and exercise your rights as a consumer. Here are four ways that should get you started.
1 – Pre-Pay Your Own Funeral
Funeral home burials have high costs because you are buying a service and a certain level of care. Some people would rather pay than have something substandard or less than perfect. They want the whole funeral taken care of so that their family doesn't have the burden of planning or paying for anything. If you want all the bells and whistles, pre-paying for a funeral package is a smart option.
There have been issues with the mishandling of prepaid funeral contracts in Connecticut in the past, most notably in 1994 when the operators of a now-defunct funeral home in New Haven were sued. Modern legislation has made the industry far safer but you must still seek legal advice before making an investment. You can either make a full payment into a trust where your money increases over time or you can pay in installments while you are still alive. You must ensure that this fund is well managed and licensed to operate in Connecticut. After the funeral, any remaining money is returned to your estate, under Connecticut law.
2 – Source Items Yourself
Most people choose a funeral home based on personal recommendations or familiarity as it's the one they used before. The average price of a funeral in Connecticut is $6,000 yet these costs are highly inflated. While a funeral home will charge $1,295 for a casket, a wholesaler will charge only $325 and a casket retailer will charge $625 for the same casket. Most people don't know that they have specific consumer rights given to them by the Federal Trades Commission's (FTC) Funeral Rules. Under the FTC rules, funeral homes are legally obliged to use any casket regardless of where you bought it.
3 – Skip Embalming
Connecticut is one the many states that hasn't made embalming mandatory. It is typically only required if the body isn't stored, refrigerated or buried within a certain amount of time. The embalming can cost $500 – $700 at a funeral home but most funeral shoppers don't know that it's unnecessary. To cut costs you could skip embalming yet many people think it is a legal requirement.
4 – Choose A Direct Cremation
According to the Connecticut Funeral Home Investigation report, a third of funeral homes failed to mention less expensive options of direct cremations. All State Cremation, a firm offering cremation services points out that consumers may also cut costs by refusing to pay for services that they could do themselves more cheaply, such as arranging flower deliveries, transportation and filing papers.
---
This article is authored by Richard Earnshaw, an employee at All State Cremation, leading providers of cremation services in New Haven, Connecticut. Richard is passionate about graffiti art and plans to hold an exhibition to showcase his work.