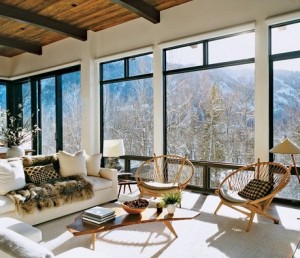 When the snow is falling outside and the blahs of winter have you in their grasp, you can fight back by turning your home into a warm, inviting space that beckons you to enjoy the season. With just a few simple tips, you can easily turn your home into a cozy oasis in the midst of even the coldest winter.
1- Add Color and Light
Dark rooms and stark spaces make winter seem endless. Add bright, colorful accent pieces, such as rugs, throws or throw pillows, to rooms with a neutral color theme to make them cheery and inviting. Jewel-toned colors are an excellent option to brighten up any space, but warm summer colors, like bright pink, are also an option.
To maximize natural light, place a mirror strategically so it reflects light from a window into the room, or place the mirror above the fireplace the make the fireplace the centerpiece of the room. Another option is to add lamps to dark corners of the home. Warmly-colored lights help reduce the effect of dark winter days.
2- Inexpensive Winter Additions
This winter, warm up your windows by adding new curtains in a warm, bright color. You can easily make your own panel-style curtains by cutting a piece of fabric to the desired size, hemming the edges, and sewing a pocket for the curtain rod along the top of the fabric. Choose colors like peppermint red to brighten the space, or layer panels with sheer curtains to literally warm the room.
Adding a thick, fluffy rug is a must if you live in an area with cold winters. Area rugs keep your feet warm, and add coziness to any room in the home. Opt for a color that works well with the existing decor in the room.
3- Seasonal Bouquets
A winter bouquet made with seasonal foliage, such as pine branches complete with pine cones, is a simple way to decorate for a special winter event. One way to make a stunning floral arrangement with a winter theme is to place cedar boughs around the base of the vase or container, and add roses, berries and more cedar boughs to the center of the arrangement. Amaranth, rosemary and eucalyptus are also excellent options to include in your winter bouquet.
4- Snowy Displays
Not all seasonal displays have to warm the home. If you want to reflect the colors of the season, choose items in white and silver. For instance, you can pair vintage white glassware with silver trays to make a seasonal display that is reminiscent of snow and ice. Place a bowl of seasonally-scented potpourri nearby to really bring the season to life. Scents to choose from include cloves, pine or cinnamon.
5- Get Creative
If you are decorating on a budget, opt for simple crafts to reflect the colors and scents of the season. For instance, you can add decorative touches, such as silver and white ribbon, to a grouping of white candles to make a display, or you can opt for scented candles in the main living spaces of the home. Remember to remove decorative ribbons or other decorative touches before lighting the candles!
Flameless candles are also an excellent, and safe, option. Place the flameless candle in a decorative holder, and use it anywhere you need a touch of coziness in your home.
Author Bio
Tulsa Property Managers is a Jenks property management company offering professional property and real estate management, consulting and sales services throughout the Jenks and Broken Arrow, Oklahoma area.