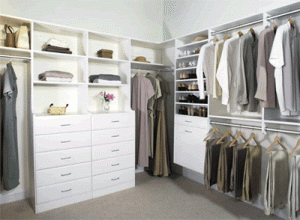 Custom closets are sophisticated storage solutions that can be placed in any environment. From small apartments to spacious homes, a custom-designed closet can make a world of a difference when it comes to maximizing space and removing clutter in homes.
Custom designs allow homeowners to find new storage potential in the spaces they already have in their homes. With closets, homeowners can keep their living spaces open, comfortable and clutter-free.
One great thing about custom-designed closets is that they can be anything that homeowners want them to be. Whether looking for a place to store linens, a makeshift mudroom, a place to hang clothes and belongings or a storage space for arts and crafts, custom closets can be a quick and efficient solution.
Ideas to maximize space
1 – Organization is key whether you live on your own or live with a big family. One design tip is if you have the space, create a walk-in closet. Walk-in closets are great additions to any home because not only do these closets provide a lot of space for homeowners to stay organized, but walk-ins also give homeowners the opportunity to store multiple items – from clothes and shoes to jewelry or other accessories.
If a walk-in closet is not feasible, there are many other ways custom designs can be utilized throughout homes.
2 – Some other ideas for custom closets include creating a space wherever you can and incorporating different design elements to make it functional and storage-friendly. For example, install shelving and shelf dividers to keep belongings separated and organized at all times. High shelves may be out of reach for some people, but they can be used to store infrequently used items (and a stepping stool can easily be stored in the bottom of the closet!).
3 – Additionally, purchasing bins, containers or baskets that fit on the shelving units are also useful for storing loose items that are just laying around the house. Labeling these storage spaces will help homeowners stay even more organized. Distinguishing certain spaces for loose items can also prevent homeowners from throwing random items into the mix and becoming unorganized again.
4 – Another way to stay organized with custom closets is to create a space without a clothes rod. By creating this sort of space, homeowners can install hooks on the walls and can even install low shelving to double as a place to sit down and take off a pair of shoes or get ready to go outside. This type of space provides homeowners with a place to keep coats and jackets, shoes, umbrellas, scarves, gloves and mittens.
5 – One other great use of a custom-designed closet is to create a space within a space. If the closet is kept hollow and is deep enough, homeowners can put a variety of things inside the space, including a desk or laundry facilities. Installing doors to cover the space when it is not being used is a great way to separate work from the rest of the home. Again, shelving can be installed and bins, containers and baskets can be purchased to fit inside the space, helping homeowners to remove clutter that is in their homes.
By creating a space that will allow homeowners to put away belongings, more space can be created within any home environment. No matter what type of custom design homeowners choose, custom closets can always help people stay organized in a convenient manner.
---
Author bio:
John Doyle is the owner of Closet Butler, a company that provides custom closets in North Jersey. Whether you need more storage in a walk-in closet, laundry room, garage, custom pantry, home or office, our design professionals can create an optimal storage space that will provide homeowners with ways to always stay organized.