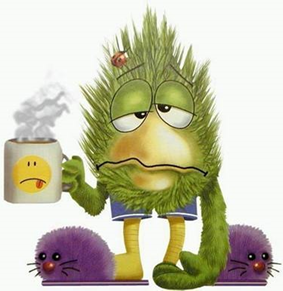 When the cold virus gets into your nasal cavity, your immune system responds quickly. This reaction of your body causes the "classic" symptoms: flowing nose, sneezing, tingling, or soring throat.
Once you have these symptoms, you should fight the cold before the virus gets superinfected (ear infection, sinusitis).
So to help you fight the cold, here are some steps we selected for you!
1- Spray for Soring Throat:
A spray made of honey, propolis, essential oils, mint, and eucalyptus guarantees an efficient remedy against the sore throat.
Honey calms down the itching, eucalyptus makes you breathe easily while propolis acts as a shield against virus development.
Our home tip: a lemon juice with a spoon of honey before breakfast can do it too.
 2- Ocean Bath Crystals to Clear the Nose:
Leave a bottle of salt crystals permanently on the edge of your bathtub and use it when you fell the first cold shivers.
Pour some crystals in your bath and just…breathe!
The salt reacts to the heat and humidity when the eucalyptus liberates the nasal cavity and acts as an antiseptic.
Our home tip: buy some eucalyptus essence, pour a little in your tissue and smell in it!
3- Elderberries to Breathe Better and Easier:
Elderberries are not only good to make jam!  Rich of polyphenol, they stimulate immune cells to fight the cold virus prohibiting it to spread.
Elderberries capsules help liberate breathing when catching a cold. By the beginning of symptoms, take 4 capsules a day for 3 days.
4- Essential oils against cold:
There exist capsules of essential oils : rosemary, thyme, eucalyptus, aspic lavender, and bay leaves.
They improve your breathing comfort an make you forget about your blocked nose.
Take 3 capsules a day (morning, noon, and evening).
5- Homeopathic Pills for Cough:
Boost yourself with homeopathic pills and let them melt under your tongue (five pills a day). If you start feeling better, space the takings your recovery.
Our Home Tip: Prepare yourself a thyme tea with a generous spoon of honey and your cough will fade away.