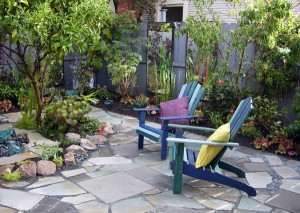 Warm weather is here, and that means spending more time outdoors. Remodeling your patio or other outdoor space is a great way to improve the aesthetic appeal of your home and to increase resale value. Aside from freshening the yard, it also affords you the opportunity to engage in a constructive outdoor project after a long winter. From adding water features to incorporating stones and plants, there are many ways to modernize and improve its exterior. Here are four ideas to consider this year.
1 – Add a Water Feature
Water features have long been used as decorative accents to indoor and outdoor spaces. They range from vibrant decorative pieces to subtle ones designed to look natural. Many patio and outdoor remodelers incorporate water features for added elegance, and to create natural focal points. They do require some planning, since ponds, fountains, and waterfalls require pumps and controls. If you want to incorporate a water feature into your remodeled patio space, it is important to plan electrical lines carefully. Aside from the safety concerns that accompany electrical wire, filters and pumps should keep the water moving and as clean as possible. Standing water can quickly result in an algae-infested, mosquito-ridden yard. Fortunately, water features are easy to maintain, and will give your patio a truly original look.
2 – Levels and Stairs
Another way to add character is to include more than one level. Having two separate levels means your patio can serve different functions. You have the freedom to dedicate the top to cooking or dining, perhaps, while the lower may be used for a pool, hot tub, or lounge. Creating a multilevel patio also means selecting a style of stairs that can add extra elegance.
3 – Pavers
Interlocking pavers look a lot better now than they used to. They come in a variety of styles, shapes, sizes and colors. Cobblestone, for instance, is especially popular. Interlocking pavers are exceptional for areas that get a lot of foot traffic, because the material is durable and long-lasting. Also, the interlocking feature makes it easier to replace a single damaged piece, rather than resurfacing the entire area. Additionally, they are extremely low maintenance, and their strength makes them perfect for incorporating a patio near a driveway.
4 – Incorporate Plants
Updating your landscape around your existing patio is an easy way to liven up the old look, but if you want to remodel your patio completely, incorporate planting beds into the patio's design. The planting beds will create a beautiful, soft edge once plants, flowers, or trees are in. They are also attractive way to close off a single side or multiple sides of your patio. Your landscape will help create the mood for your opened or closed outdoor lounging space. Adding decorative trees, for instance, is a great way to encourage shade without overpowering the landscape to patio ratio. A break in planting beds is perfect for adding a sitting area or other decorative patio feature, too.
Are you interested in remodeling an outdoor space or patio? For a consultation and remodeling ideas, contact RH Homes today.