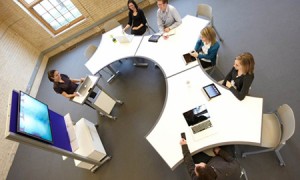 Technology has vastly improved the way we communicate, from being able to contact people half a world away, to shopping online without leaving the house. Not only has it benefited the home, it has changed productivity in the office environment. The younger generations who have started their office careers will have no idea how lucky they are and it is ever changing. So how has it changed the way we work? Has it improved productivity?
1. Stationery
Correction fluid is still a vital asset to removing those mistakes we have made when writing with a pen. While it is still a crutch of the correction world, many pens come with their own erasers too. The range of 'Frixion' pens are designed to be removed with the installed eraser through 'friction'. The eraser however, can only be used with that ink, making correction fluids such as 'Tippex' popular for amending mistakes on documents.
2. Computers
You cannot doubt the effect the computer has had on the office and is a piece of technology that is constantly changing. Programs such as Word and Excel make it easier for us to produce professional looking documents and spreadsheets. Not only have they improved work productivity, but with an excellent internet connection, they have allowed us to hold conference calls without leaving the office. VOIP programs such as Skype allow us to interact and communicate with people over long distances through a video conferencing systems.. This is also an advantage for those who wish to work from home, along with the invention of mobile computers such as laptops and tablets.
3. Social media
While this can prove detrimental to office productivity (Who hasn't logged onto Facebook at work?), it is a huge benefit for business advertising. Social media platforms such as Facebook and Twitter can allow business to reach whole new audiences. Through interactive and shareable content, your brand awareness increases which can lead to an increase in ROI.
4. Smart phones
Nowadays, smart phones have the capacity to hold as much as a laptop. They can act like a miniature mobile computer through an array of apps such as notepads, calendars and email. The latter is especially important for those who are constantly on the go. In the past, you would have to access email via an internet connection either through a laptop or PC. With smartphone, you can connect through Wifi and access those important emails there and then.
5. The internet
As mentioned previously, the internet has truly changed the way offices work. With wireless networking removing the needs for wires, people can access the internet on a mobile computer and also work from home. Like social media, the internet has also changed the face of business across the globe. Google can influence the way business can be seen online through SEO, Google Ads and concentrating on excellent content. The internet has really advanced online marketing. Also, with the invention of Cloud computing, files can be securely stored online without the risk of losing them as is possible with a USB stick. It makes them easier to share by being stored in one location.
Technology is constantly adapting and companies are always finding a way for technology to make life more efficient, especially in the office environment. Office stationery suppliers will provide the latest stock and technology for all your office needs.
Author Bio
Harry Price is a free-lance writer and guest blogger. He likes visiting his family around the world and playing competitive poker.