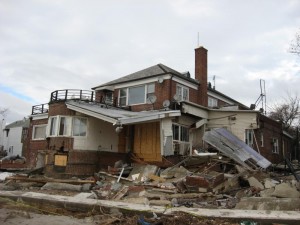 If you have fallen victim to the destruction of either your home or your business in the face of a natural disaster, you may be finding it difficult to cope with the loss. Not only have you just faced the emotional loss of the home that your family has grown in or the business that you built, but also there are also many overwhelming logistical facts that you have to handle. Follow these tips to make the process move more smoothly.
1 – Know Who to Call
The key to preventing yourself from getting overwhelmed after a natural disaster has destroyed your home or your business is to know who to call and stay in touch with those people. First, you should be in touch with your insurance company throughout the process. They will advise you on how to process a claim, what your coverage is, and how to move forward in terms of damage control, cleaning, and restoration.
Second, you should be in contact with any local authorities that are dealing with the natural disaster and building officials if you rent the building that your business is located in. Finally, you should also keep in contact with utility companies to discuss inspection and potential service.
2 – Keep Track of Damage
One important process is documenting the damage to your home or business. This is a necessity for insurance companies to process your claim and determine compensation. In addition, it will be important for contractors to provide an estimate. You should document the damage both with photographs and a list of any assets that you have lost and their worth. In addition, using a video camera to document the damage is also helpful.
3 – Employ an Expert
If your home or business has been completely destroyed, this is not a situation that you are expected to handle on your own. You should employ an expert to assist you throughout the process. It is likely that your insurance will provide an inspector to walk you through the damage and process the claim. You will also want to set up inspections and service with your utility companies. Finally, hire a professional restoration service for cleaning up the damage and rebuilding your home or business.
4 – Move Forward
The last step in the process of coping after a natural disaster has struck your business or home is to move forward. This involves deciding how to rebuild and restore your property. Find an experienced company dedicated to providing quality restorations services after any type of natural disaster.