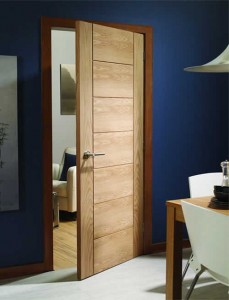 When the time comes to replace your internal doors, you might think that removing an old door and fitting a new one is a difficult or time-consuming task. However it really is much easier than you might think to complete this DIY task, and the benefits of a free-moving, stylish new door are countless. In order to help you replace your doors hassle free in under an hour, let's walk you through the steps to make the instructions clear and easy.
Removing an Old Door
It's generally very simple to remove an old door, unless it's broken or painted over the hinges. However all you have to do in unscrew the door from its hinges to remove it from the door frame. You might want to get a friend or family member to hold the door still whilst you do it, but other than that it takes only a few minutes to remove an old door.
Don't throw it away just yet though, as it can be a good template to check that your new door will fit the frame, providing that the old door maintained its shape well. If your door has warped, then you obviously don't want to use this. Meanwhile if you are installing a new door frame too, then you'll simply have to check that the door and frame match up before installing both.
Fitting a New Internal Door
When installing a new door, you need to measure up the hinges first. On existing frames, see if they fit into the area where the old hinges sat, and alter the size of the indent if necessary to fit the new ones. For new door frames, you will need work out where the door should hang, pencil this on, then chisel out the area a little to fit the hinge snugly.
Then, you'll want to measure the hinges to the door so that they match the area on the door frame when lifted to fit. Once you're sure that you have got this accurate, it's time to screw them to the door. You'll need to then open the hinge so that it is open at 90 degrees, to allow you to connect to the frame.
To attach the two together, wedge the door in place or get someone with a steady grip to hold it there, whilst you screw in the other side of the hinge to the frame. Finally, check that the door opens and closes with ease, and finish by tightening up the screws.
New internal doors can transform not one, but two rooms and can combat any drafts or insects that old ones fail to keep out. As such a simple task to do yourself, you can no longer put off your interior door upgrade with the excuse of not knowing how to remove and install one. So choose a stylish set of interior doors and take pride in the knowledge that you've fitted them yourself with a simple bit of DIY.
Author Bio
Article by Kelly Gilmour-Grassam, a freelance copywriter who often writes for Emerald Doors.