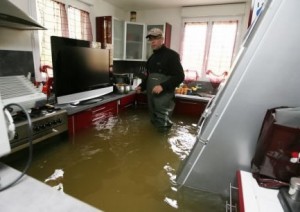 When a natural disaster occurs, no one is fully prepared to deal with it. Although we can't stop a disaster from happening to our home, we can take the necessary steps to begin the healing and restoration process afterwards.
Mold is Dangerous
With flooding or any type of natural disaster that exposed your home to rain, there is a great chance that mold will begin to grow if not treated immediately. If you have had flood damage, you should contact a trained professional immediately to begin the mitigation process as soon as possible.
Cut off electricity
If your electricity is still turned on, go to the breaker box and turn it off. This is important so that when the power does turn back on, it does not cause a circuit to blow. Also, be very careful that you do not touch electric appliances while standing in water. Even if the power is turned off, there can be enough power within the appliance to shock you severely.
Lock the house
If your property is still somewhat intact, be sure to lock it securely when you are away. The time after a natural disaster is a great time for looters to take advantage of homeowners forgetting to lock their homes. Looting is a serious crime and should be avoided if possible.
Determine safety
After a natural disaster, your home can be structurally unstable. Before entering any part of the home, thoroughly check your surroundings and make sure that it is safe to enter into the building. If you do decide to enter the building, wear protective gear. If you do not have a protective suit that you can wear, it is important to at least wear a covering over your face so you do not breathe in the potentially hazardous fumes from the damage.
Document damage
Before you get started with any type of remodeling or restoration project, go through the house and property and take photographs of the damage that the storm caused. Not only will these be important photos for you to have, they will also be good for filing an insurance claim with your insurance company.
Finally, look for a company where trained professionals are ready and able to respond to any severe weather emergency that you may be experiencing!