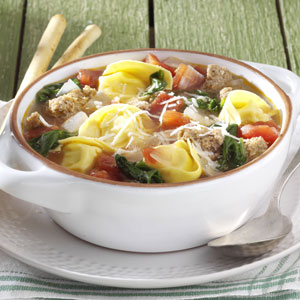 This tortellini soup recipe is quick to prepare and rich in healthy and tasty ingredients.
Ingredients
3 turkey sausage links
1 medium onion, chopped
6 cloves garlic, chopped
2 cans chicken broth low sodium
1-3/4 cups water
1 can diced tomatoes, undrained
1 package of cheese tortellini
1 bunch fresh spinach, coarsely chopped
2-1/4 teaspoons chopped fresh basil or 3/4 teaspoon dried basil
1/4 teaspoon pepper
A pinch of red pepper flakes
Grated Parmesan, optional
Recipe
Crumble sausage into a Dutch oven then add the onion.
Cook over medium heat until meat is no longer pink.
Add the garlic and cook for 1 more minute.
Add broth, water and tomatoes and bring to a boil.
Add tortellini and bring to a boil.
Cook for 7-9 minutes, stirring occasionally.
Lower the heat, add the spinach, basil, pepper and pepper flakes.
Cook for 2-3 minutes or until spinach is wilted.
Serve with cheese if desired.
Yield: 6 servings