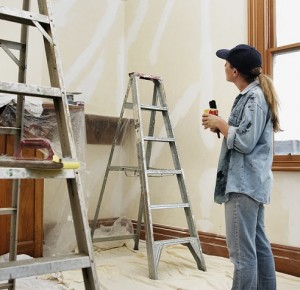 In the world of home improvements, not every investment is a payoff. Some upgrades are not cost-efficient and rewarding in the long run, while others can save you a fortune on the utilities and considerably up the market value of your property. If you don't know which improvement projects to opt for this year and come out with higher wins than investments, we have several convenient suggestions for you right here so scroll down to find the upgrade that fits your home and budget best.
1. Roof repairs and replacements
An important aspect of every house, the roof is often neglected in renovation and repair projects. Just like our living rooms, kitchens and bathrooms, roofing needs tending and upgrades now and again to remain functional. Some of the roof-related improvement projects you may want to consider include roofing material replacement, shingle or shake repair, vent installation, chimney sweeping, skylight opening, roof stain and debris removal, flashing fixes and gutter cleaning. Some of these you'll be able to complete on your own, but don't overestimate your skills and capabilities – instead of carelessly putting your life on the roof line, sometimes it's better to have the professionals do the work for you.
2. Basement upgrades
One more frequently overlooked area in the home, the basement can be a source of various hazards and risks for the entire household. The most common basement issues that plague a number of houses includes leaks, wetness and underground water sources. In case your basement walls are constantly cold and damp and moisture is breaking into mold and stains everywhere, identify the water source and take care of it ASAP. Other basement projects include installation of laminate flooring, peel and stick tiles, panel or wall painting and complete overhaul and repurposing of the room (i.e. transformation into a library, bar, workshop, etc).
3. Thermal insulation done right
Winter is coming, indeed – and with wintertime, low temperatures and frost will besiege your windows and house walls for several months. Don't bleed money on the electricity bills or risk to constantly feel chilly even with the heater on the max – with adequate thermal insulation, you will be solving two issues with one affordable upgrade. And in case you don't want to break the bank, you can turn to the UK government for help: having recently established a home insulation grants fund, the state is open for applications by individual homeowners so you can check out their website and see whether you're eligible for project funding.
4. Flooring at its best
Then there's the flooring. Although it's probably not the first aspect of the house you think of when considering upgrades, floors too deserve a place on the list of major home improvements this season. For instance, you may decide to throw in a floating floor in the living room or replace shabby old tiles with new ones in the kitchen and bathroom. You may also consider covering the underfoot area with cork panels and do a fresh floor paint number on your existing wooden surfaces. For more demanding flooring projects, consult experts and professional craftsmen – some upgrades can't be done without the necessary tools and prior knowledge and it's always better to pay more for the overhaul than to have the work done marginally or haphazardly.
Just like people, homes need tender, love and care to stay functional and appealing. If you want to make a change in your living area that will truly count in the long-run, consider updating your flooring, finishing up roof repairs, adding thermal insulation and/or overhauling the basement. With some money to spare and a dash of patience and skill, your household may soon shine in a completely new light – and a cozier and more cost-effective one too.