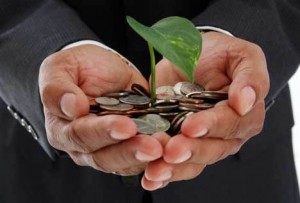 Launching a start-up or a small business requires capital, and you'll need to have a healthy cash flow to keep things running and scale up when the time is right. With traditional banks still reluctant to lend, especially to new businesses that lack collateral or a good credit rating, many entrepreneurs and small business owners are turning to alternative forms of funding for their businesses. Here's a list of popular options in case that chat with the bank manager doesn't go so well.
1 – Self-Financing
Many small business owners prefer to finance their companies strictly from their own pockets, taking all the risks as well as all the rewards. Keeping your day job while starting up a business is a good way to ensure a healthy cash flow, but it may leave you short of time and energy to develop your new business fully. With self-financing you get to keep total control of your business but, unless you're particularly flush, the capital provided will probably be limited. However much of your own funds you invest in your business, don't put in more than you can afford to lose.
2 – Friends and Family
According to research, lots of small business owners now look to friends and family to help finance their projects. While this may seem preferable to borrowing from a bank or credit company, you risk jeopardizing your most precious relationships if things go wrong and your business fails. At the very least, keep things as professional as possible by drawing up a signed contract and provide the same level of updates and dividends for your nearest and dearest as you would for any other investor.
3 – Non-Bank Loans
Non-bank lenders include large credit companies and smaller businesses offering microloans. The advantages for borrowers may include less stringent credit ratings or collateral requirements, and loans are often made on the basis of a business' cash flow and its ability to repay. Applying for non-bank loans is typically a straightforward process and loans can be approved almost immediately. However, interest rates can be much higher than ordinary banks and borrowers should always check the fine print before signing any contract.
4 – Crowdfunding
Relatively unheard of even a few years ago, crowdfunding – soliciting investment from large groups of strangers, typically online via dedicated websites – has since become a true internet phenomenon. While early crowdfunding sites like Kickstarter or Indiegogo focus more on creative projects, newer sites such as Fundable and Crowdfunder provide financing opportunities for a much wider range of small business ideas. Setting realistic and achievable goals is the key to crowdfunding success, as investors participate on the strength of an idea rather than the promise of returns.
Whether you're looking for extra cash to help your current business or seeking investment in a brand-new project, the many alternative forms of funding available to small business owners today means you no longer have to rely on banks alone.
---
Author: Melanie is a business finance writer for Capiota, a business lending provider in the UK