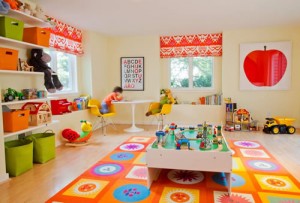 When preparing for a DIY kids playroom renovation, there are a number of factors to consider. It is very important for children to have a safe, comfortable environment in which they can play, learn, and explore. A kid's playroom should be a place where they can store their belongings and exercise personal freedom. Big factors that determine the functional use of space include the actual square footage available and the age of the child.
Basic design concerns include wall treatments, flooring, lighting, and storage. Built-in shelving and cubbies can also be a bonus for permanent storage of toys, games, and books. Here are five elements of DIY kids playroom renovation covered in more detail.
1 – Themes
For preteens, the room should have a prevailing theme. Bright colors or juvenile patterns are great for walls. A custom painted mural can also be ideal, for example a jungle, castle, or pirate setting. Chalkboard paint is a cool addition because it turns a regular wall into a chalkboard. Older children may appreciate a wild base color on which they can hang posters.
2 – Flooring
Playroom flooring will vary based on the desired activities. For an indoor jungle gym, lots of cushioning is recommended. If there is a quiet area devoted to the likes of studying and reading, then plush carpeting may make sense. Entertainment rooms with big screen TVs and gaming systems also favor carpeting. A budding artist will benefit from tiling, where paint, glue, and clay can easily be cleaned. Hard surfaces are optimal for activities like ping pong, jump rope, and playing with train sets.
3 – Lighting
Lighting is also dictated by the activities of focus. Bright task lighting can be important for an area devoted to arts and crafts, whereas study and reading areas may be better served with softer options. If your space allows for a skylight, that is wonderful as well.
4 – Accessories
Accessories will of course vary widely depending on the age and interests of a child. For older children, a magnetic whiteboard serves two great purposes as an organizer for thoughts and as a platform for drawing. For younger children, a puppet show stage can be set up, allowing their thematic imaginations to run wild. Building a low wall bookshelf also encourages preschoolers to pick up the reading habit early. Couches and kid sized tables are also nice.
5 – Safety
Safety is a more pressing issue for younger children. No sharp objects or furniture should be in the playroom. Same goes for things that are fragile and expensive, because they may experience a greatly reduced lifespan. Heavy objects that can fall are also dangerous, and outlets should have safety covers.
Renovating a kids playroom is a great thing to do and can greatly enhance a child's early life. Think about what activities you would most enjoy doing with them, and how you might best enable their developing interests and skills. Do not be afraid to experiment with different ideas to see what really works for your child. Of course after your child has grown up, you will be able to once again renovate the room for any of your own desired purposes.
If you would like more information about playroom renovations, feel free to contact a professional.