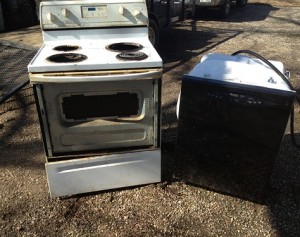 When one of your appliances gets outdated or broken down, it is certainly the time to buy a replacement. But you don't necessarily have to throw it away into the landfill. There are options that allow you to dispose of your old appliances like giving them away or selling them to a used appliance store. Here are some other ways of getting rid of your gadgets in an environmentally friendly manner.
1- Give them directly to people in need
If you are not living in an exclusive subdivision, chances are there are some needy families around your neighborhood. If this is the case, you may try offering your used gadget to one of them. Your "beneficiary" will surely be thankful to you for being generous and might ask for more in the future. Before giving that old refrigerator or microwave away, you must be sure that they are still useful.
2- Sell them
If your appliance is still in good condition but you want to replace it with a newer, better model, you can dispose it and make money at the same time. Try selling your used appliance to someone who will find it useful as it is such as a used appliance parts supplier.  The price may not be a problem to you because your real objective is to have that appliance taken away without much hassle on your part. The payment you get is just a bonus, actually.
3- Donate used appliance
If you believe in the saying that someone's trash is another man's treasure, you will most probably realize that the gadget you want to reject is still useful and needed by someone else. No cash is involved here but donating to charity can have some benefits to you in terms of tax privileges.
4- Recycle
You might not know it, but old or used appliances can be recycled. Here are some of the ways:
Contact the manufacturer and ask them if their company is running a recycle program;
Inquire from an appliance store if they are willing to recycle your old appliance if you buy a new one;
Tell your local waste management department about your plan to recycle your appliance. You might be asked to pay a fee for this but it's nothing compared to the convenience and knowledge that your once-priced belonging is destined for a good purpose.
These are some of the ways to dispose of old appliances that are still usable. So instead of throwing them away to the landfill, you might as well hand them over to people who can benefit from them. But if your appliance is no longer useful, by all means, you must have them disposed of in a way that won't cause harm to the environment and the ecosystem.