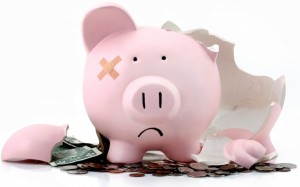 Is your credit card debt growing out of control? If your accounts are being turned over to the debt collection agencies and you're being harassed by the collection agents, it's probably high time that you revamp your spending habits and create a fresh new start. Being in a cash-strapped situation is something that no one wants as it constantly gives you the feeling of being a broke. Whether you're taking charge of your family's expenses or your personal expenses, there's a lot that you can do to revise your financial goals. Here are some bad spending habits from which you should break yourself free and avoid debt.
1 – Going out for dinners too often
Did you know that you can have up to three meals and if you make the decision of taking every meal out of home, there will be about of 100 opportunities to overspend. There are too many people who don't let go of these opportunities and they simply indulge in eating out or ordering food at home. When you're hungry, you tend to overspend and hence you shouldn't go out for shopping with an empty stomach. When it comes to taking dinners out of home, this is even worse. You should ensure cooking at home to save your money.
2 – Spending money when you don't have it
Are you such type of a person who parts with money even before it reaches your wallet? If answered yes, it's high time that you overhaul your daily spending habits. Set a limit for your purchases so that you don't take wrong steps that can force you to cross that limit. Don't spend money when you don't have money as this will certainly lead to incurring debt.
3 – Not knowing why you're spending money
We all have different reasons to buy things. While some of us spend money for what we need, some others spend money for what they want. There is a distinct difference between your 'needs' and 'wants and hence you should learn to distinguish between your needs and wants and thereby take responsible decisions. If you don't know the reason behind spending your dollars, it's high time that you change your outlook about money.
4 – Using your plastics excessively
Credit cards are one of the most convenient financial tools used by people in America. While they seem to be convenient tools, when you start misusing them, they become nothing but debt generators. Don't whip your plastics while making every single purchase as this will increase the amount of debt that you owe. Use cash instead of credit.
5 – Spending money without a budget
Budget is that word that is hated by most Americans as they think that budgeting means pinching your pennies. But this is not the actual fact. You just have to track your expenses so that you don't overspend and dig deeper into the debt hole. Spending your dollars without a budget is yet another bad financial habit that you should eliminate. Therefore, when you're wondering about the reasons behind the soaring personal debt level, you should first take a look at your daily expenses. If you're still practicing any of the above mentioned habits, break them as soon as possible and set yourself debt free.