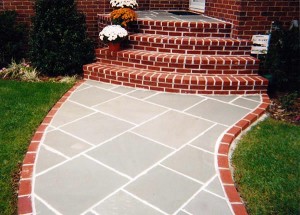 When it comes to home improvement projects, they say it's all in the planning, and constructing paving is no exception. Carefully considering different aspects of this outdoor project will not only ensure that you will avoid wasting precious materials and stay on budget, but also that everything will proceed smoothly. Pavers are great for creating the right setting for your outdoor activities while adding value to your home. Before your installer has arrived on site and all the materials have been delivered, you should run through a few check boxes to ensure that it all goes according to your carefully crafted plan.
1. Surveying the Site
First thing you have to do is to identify the size and scope of the area where you intend to construct your paving. This will allow you to properly estimate the amount of materials you'll need, as well as to identify different practical issues (such as drainage, for instance). Once you have selected the exact area for your project, you should learn how to prepare the base for paving.
2. Examining the Use
You should definitely consider how you are going to use your paved area, from both the practical and lifestyle point of view. To this end, you need to work out what sort of traffic your paving will be subject to. Pavers come in a wide scope of thicknesses, so if you are paving, say, a driveway, you are going to need a thicker variety to avoid cracks, while a considerably thinner option will be enough for a nice walkway.
3. Choosing Pavers
Although selecting pavers is pretty much a personal choice, but remember that you should take into account both their practicality and cost. There is a wide range of colors, textures and patterns and in terms of paver materials you can choose from slate, terracotta, brick, ceramic, clay, natural stone, and concrete. Speaking of patterns, you can go for square, hexagonal or interlocking solutions. Large pavers are excellent for making smaller areas appear larger, but you should be careful not to overwhelm the space with them. By the same token, in larger areas you should avoid small pavers, as this can often look a bit too hectic.
4. Evaluating Materials
It's always good to know what your paving project is going to cost. Perhaps the best way of doing this is to simply breakdown the different elements. With regard to the materials that will be used (not just pavers, but sand and concrete, as well), you should definitely allow for cuts, breakages and site wastage. And if your paving project isn't going to be a strictly DIY project, you choose a professional to take care of it, and learn about their rates and whether this includes the materials needed or just their work.
5. Selecting the Design
There is a range of patterns you can lay your pavers in, including the checkerboard, stretcher bond, herringbone, basket weave, and radial pattern, some of which will better suit your outdoor setting and lifestyle. Check out this article on walkaway paving patterns to get a clearer picture.
Author Bio
Lillian Connors is a blogger and home improvement enthusiast ever so keen on doing various DIY projects around her house and passionately writing about them. She is also an online marketing consultant, closely collaborating with a number of companies from all over the globe. You can check her out on G+, Facebook and Twitter.