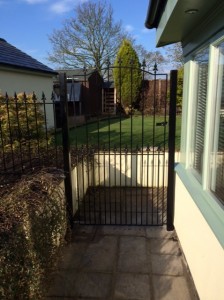 In order to provide increased privacy and security to your home it is important that both the vehicle and pedestrian access points are well secured. As such the following article has been designed to provide you with some invaluable information as to the various types available in terms of material and design. Additionally it will also look at the correct method of measuring the opening so you can be certain that any new gate will fit its intended application perfectly.
1 – Selecting the Style
Available in an almost endless spectrum of designs, residential gates will generally fall into 2 main categories.
Garden Gates
Driveway Gates
Garden Gates
This broad term "garden gates" generally refers to the fact that they are a single gate design and as such are normally available in widths up to 4ft.  Over this width and the leaf tends to become too wide to span in one piece.
Available in both wrought iron and timber in a number of visually appealing styles, it is important to consider the look you are trying to achieve combined with the amount of additional security you wish to create when selecting your preferred design.
For example, a country cottage would be well suited to a traditional timber gate securing the pedestrian access point as this will blend well with the natural surrounding and existing characteristics of the property.
By comparison, a property located in a busy city centre would be far better suited to a taller wrought iron gate that offers a higher level of security whilst ensuring the look is suited to these types of property.
Driveway Gates
Required to span larger opening widths, a set of quality driveway gates will provide high levels of privacy and security to any vehicle access point. Normally supplied as a pair of equal sizes, these gates tend to be manufactured from higher grade materials so they do not say of bow under their own weight.
It is therefore important to remember that when selecting gates to secure your drive always opt for the most expensive that you can afford as it will pay off in the long run in terms of strength, security and durability.
2 – Selecting the Material
Available in wrought iron and wood, the main thing to consider when choosing the most appropriate material is if it will fit in with the overall architectural style of your property along with any existing features that may already be in place.
For example, if the front wall of your home has metal railings in place, it is a good idea to try to match a new wrought iron gate up to them to create a harmonious overall look rather than selecting timber purely on the basis of cost.
In addition to considering the visual appearance, it is also sensible to consider the amount of maintenance that will be required on each material in order to keep them looking their best.
Wrought Iron – Although this material is strong and durable it will need to be protected against rusting. This can be either in the form of them being galvanised during the manufacturing process or ensuring they are painted on a regular basis.
Timber – Gates that are constructed from timber of not normally made using pressure treated timber and as a result will need regular maintenance to prevent them from simply rotting away. To ensure the maximum possible protection, it is advisable to apply a fresh coat of stain or paint at least once a year.
3 – Selecting the Size
Ensuring you understand what the measurements refer to is as important as any of the above factors.
Wrought Iron Gates – These are normally ordered by the gap size into which they will be fitted. Most companies will include the space need for the hinges and latch within this measurement so make sure you factor this in when ordering. As such, to find the ordering size you would simply measure the daylight gap. It really could not be simpler.
Wooden Gates – These are ordered by the physical width and height of the gate. No allowances will have been made for the space need for the hinges and latch nor will it have made any allowances for opening tolerances to prevent the panel binding on the posts as it opens and closes.
In conclusion, by taking into account all of the above information it is possible to make a well informed decision as to the most appropriate gate to meet your requirements.
Alternatively, if you are looking for more information it is a good idea to speak to a professional company such as Wrought Iron Gates Direct who will be able to offer impartial advice and help you through the process.