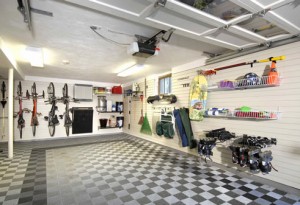 With the summer months coming to a close, we know the importance of cleaning out your garage and preparing for winter. It can seem like a challenge to keep your garage clean but we are here to help. Here are a few tips and recommendations to keep the garage tidy while protecting the environment.
1 – Sort the clutter
The first step to having a tidy garage is to clean out that clutter.
2 – Empty the garage
The second step is to pull everything out of the garage and display on your lawn.
3 – Separate items into piles
Make a pile for the things that you want to keep, a pile for things to be given away, and a pile for things to be thrown away in trash.
4 – Recycle or donate unwanted items
When you start cleaning out your messy garage, you will most likely find items that you have no desire to keep any longer. Instead of throwing those items away, decide to donate them. If you have extra tools like building or construction supplies, they can be donated to your local Habitat for Humanity.
5 – Dispose of Eco-hazardous items
The majority of garages contain old cans of paint, antifreeze or motor oil. These items should not be included in your normal household garbage. Take the hazardous items to the landfill workers and ask them to dispose of the materials. Not only will the environment thank you, so will your garage!
6 – Clean the floor
Start by sweeping the newly emptied garage and when you are done, sweep again. Garages are notorious for harboring unwanted dirt and grime. When you are finished sweeping, use a cleaning mixture of white vinegar and hot water to scrub the floor and windows.
7 – Clean any oil spills
Once the garage is emptied out and swept, attack any oil stains that might be left behind. Many times our vehicles leak oil and the stain oil leaves behind can seem impossible to remove. Simply apply baking soda to the oil spot and scrub the stain with a wet brush. The baking soda will help to remove the stain and is a much more environmentally friendly option.
8 – Find eco-friendly ways to terminate pests
Spraying pesticides may be an easy way to control the pest population in your garage; it is also extremely bad for the environment. You can do things like set mouse traps or hang fly paper.
9 – Use wall space
Keeping things off the floor will help create a more organized feel to your garage.
10 – Put every item in its place
When returning the "keeper" items to the garage, designate a place for every item. Install racks on the wall to hang items like shovels and rakes. Organize storage bins and label each clearly.
After reading these tips, we hope you are well on your way to a cleaner garage. For more helpful green cleaning tips check out this page.