Christmas is one of the most expected events of the year. But for those who need to prepare the Family Dinner, it is general panic and many hours in the kitchen.
We suggest that you spend no more than one hour to prepare a delicious dinner! Yes it is really possible.
1- Starters: Salmon with Fresh Goat Cheese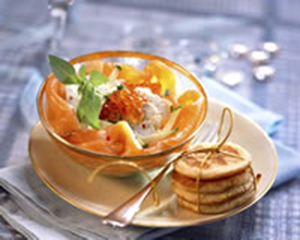 15 min/ 6 persons
12 Slices of smoked salmon
6 goats Cheese
1 Cucumber
6 table spoon of olive oil
2 table spoon of rose berries crushed
4 Basil Stems
Sea Salt
Ground Pepper
Preparation :
Wash the cucumber and cut it to fine sticks
Slice the goats cheese through the thickness.
Cut the salmon slices in half
Distribute the salmon in the cups.
Garnish the center with cucumber and the goat cheese.
Salt, pepper. Drizzle with olive oil, and sprinkle with rose berries.
Finally decorate with basil.
2- Main menu: Duck Filet with parsley and balsamic vinegar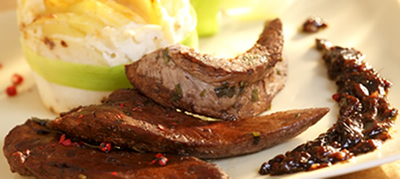 30 min/6 persons
Ingredients :
600g Duck filet
10g Butter
6 cloves of garlic
1 bunch of parsley
1 cup of balsamic vinegar
3 pinches of salt
5 turn of pepper mill
Preparation :
Cut garlic and parsley; mix them together.
Melt the butter in a pan with over high heat.
Sear the duck filet in the pan; add the mixture of garlic and parsley. Salt & pepper.
4 min later (when the filets are almost cooked) add vinegar. Put out of fire and cover the pan.
Serve it it's ready!
This dish can be served with mashed potatoes.
3- Desert: Yoghurt with dried fruit & Cinnamon
15 min/ 6 persons
Ingredients :
6 plain Yoghurts 0%
7 tea spoons of Honey
2 table spoons of slivered almonds
2 table spoons of lemon juice
7 dried apricots
2 table spoons of dried grapes
7 banana disc slices
3 pinches of cinnamon
Preparation :
Put the dried apricots in a bowl of water to rehydrate
Peel a banana and cut it into disc slices
In a plate, mix yoghurts, honey, almonds, grapes, apricots (cut into small dices) and banana discs.
Add the lemon juice and cinnamon
Finally, pour in cups to serve!